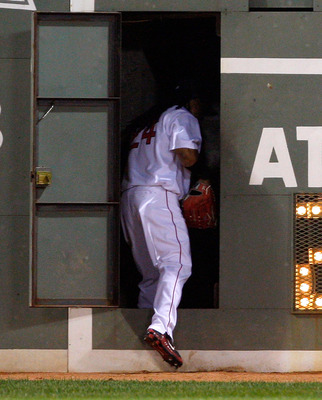 Manny has to go pee-pee...it's just Manny being Manny!
You may not believe this, but I once again had the 'Greatest Sports Weekend of my Life' this past weekend! That makes an unprecedented third 'Greatest Sports Weekend' in the last five weekends. That's quite an incredible run if I do say so myself, and I didn't even have to pay $200 million for it! SUCK ON THAT YANKEES! Let's recap the past three days (including Friday) in sports:
The Red Sox finally won a game...not that I care, since baseball and I are divorced...I just find their failures to be humorous.
I got to watch the 2011 Nike Hoop Summit. For anyone not familiar with the Summit, it's essentially a high school all-star game pitting a team of young U.S. stars vs. a team of young international stars. Being the extreme college basketball dork I am, I try to watch this every year to get a feel for incoming players. Without wasting too much time, let me just say this; Kentucky is going to be good next year...really good. More on this at a later date.
After a brief and unexplainable burnout, I finally got back into NBA 2k12 (much to my wife's chagrin). I'm four years into a franchise with the Cavs and I'm looking at two straight years with the best record in the NBA. In case you were wondering; no, fat Baron Davis isn't my superstar. By the way, I'm 25 years old...and I just wrote three sentences about me playing a video game. Sad.
Two sad notes from the weekend: My Celtics got assaulted by Lebron James and his stupid mom, and I somehow got roped into watching 'The X Files: I Want to Believe.' I honestly can't decide which is worse...
I finally played my first round of golf this year! We finally got a couple of warm days here in balmy Central Ohio and I absolutely had to take advantage. All in all it was a pretty solid nine holes considering the layoff. I managed a respectable 3-over 39, including a spectacular drive on hole 6 that I'm pretty sure landed in the adjacent highway. Let me just say, you have to hit a special type of errant tee shot to go far enough and right enough to hit that highway, so in no way am I ashamed. I embrace my inner Rory McIlroy!
The Masters! I won't write much about golf since few people enjoy it as much as I. For those who don't know me well, I played throughout high school and college. Golf has always been a big part of my life. The Masters, along with the U.S. Open and Ryder Cup, is one of my favorite events in all of sports. While this may sound blasphemous to most of you, I would gladly sacrifice the NFL for those three golf tournaments. Gladly. And so, needless to say, I watched the entirety of CBS' weekend coverage of The Masters. While we didn't get the 76 man playoff everyone was hoping for, we did get an incredible tournament. Here's a couple quick thoughts before I move on. 1.) Tiger Woods is back. This was not a fluke event and it had nothing to do with his familiarity of the golf course. Tiger hit the ball as well as I've seen in years and, for the first time in a while, looked like Tiger again. His putter failed him, especially over the weekend. I expect at least one major championship from him this season. 2.) Can somebody please get Charl Schwarzel a real freaking name?! Yes, I'm petty enough to root against a guy because his name is stupid! I don't care how dumb that sounds! His name is Charl! CHARL! YOU COULDN'T JUST PUT ON AN 'ES?!'
There's one other major sports story from the weekend that really had a strange effect on me; the "retirement" of Manny Ramirez. There's really no great way to transition from The Masters to this story, so let's just go with this; Manny Ramirez is stupid.
Really
stupid. Stupid, stupid, stupid, stupid. For those of you who've had your head buried in the sand for the past three days, here's the scoop. Manny Ramirez tested positive for a banned substance, his second offense, and opted to retire rather than face the mandatory 100 game suspension. Read that last sentence a couple more times. Read it carefully, process what it actually says, and figure out how you feel about it. What's most odd about this story is that it produced no emotion in me whatsoever. None. I didn't feel surprised, I didn't feel upset, I didn't feel angry; I didn't feel anything. And that sucks.
Although I am officially divorced from baseball, there was a time, not too long ago, when I was a huge baseball fan. I grew up a fan of the Cincinnati Reds. I knew everything about them. I can fondly recall going to Riverfront Stadium to watch guys like Chris Sabo, Barry Larkin, Eric Davis, and Jose Rijo. I collected all kinds of baseball cards, knew entire team rosters, kept up with top prospects, played all the video games; I was a baseball nut! And yet, here I am, completely apathetic about the disgraceful retirment of a guy with 555 career home runs.
My last significant baseball memory is that of the 2004 playoffs. I was a freshman in college and, while my interest in baseball was waning, I still cared deeply about the sport. At the time, the Red Sox were easily the most tortured franchise in sports and, naturally, I cheered for them during that postseason. Even today, I consider the 2004 ALCS to be the most amazing thing I've ever witnessed. Every game seemed to be a classic in and of itself! You had Big Papi's heroics, extra inning drama, the "who's your daddy" chants, and the Sox-Yanks rivalry! It was incredible! It's hard to describe, but it really felt like I was watching something bigger than sports; something I may never have a chance to see again. At the center of this memory is one Manny Ramirez.
If you wanted to know why I divorced baseball, there's your explanation. Imagine if you discovered your fondest memory to be a giant fraud. Wouldn't it change how you feel? Since I was only five years old when the Reds won the World Series in 1990, and they've perpetually been a doormat since then, my fondest baseball memory
is
the 2004 ALCS. Now, years later, we're all totally aware the entire thing was a sham. It can never change how I felt in the moment, but it definitely changes how I view it and the entire sport in retrospect. Knowing what we know now, I can never take baseball seriously again. I can never know what is real and what is fake, or who's lying and who's telling the truth. My greatest baseball memories, after all, involve watching Mark McGwire break records and watching David Ortiz and Manny Ramirez engineer the greatest comeback in sports.
The crazy thing about this is I actually liked Manny Ramirez! I know he was a complete goofball, but I just thought he was weird or something! I laughed when he went into the Green Monster to take a pee...during an inning! I thought it was hilarious when he took the field with a water bottle jammed into his back pocket! Once he started tanking his way out of Boston, it became clear he was far worse than just some goofball idiot. Eventually, he tested positive for a commong masking agent, giving credence to the juicing rumors. At this point, it's not a surprise anymore when a guy gets outed for 'roids. In fact, it seems safe to go ahead and assume everyone did them. And you wonder why I don't like baseball...
As I thought about this stuff and quietly judged baseball, it dawned on me that I might be a bit of a hypocrite. No, it's not wrong to judge baseball for their misdeeds, but how can I take a moral stance on one 'cheating' sport and continue to support all the others? Consider this...
...While not a huge fan, I watch a lot of college football. Sure, I rip on it every year for the lack of a playoff system, and I constantly rip on the NCAA for their inconsistent and asinine rulings, but I keep watching the games. Cam Newton, last years Heisman trophy winner, is known to have taken a lot of money for his services. His team was in the National Championship game. His opponent, the Oregon Ducks, are currently under investigation and it seems there are some major issues in that program. Did that stop me from watching the National Championship game? Nope. I watched every second.
...Year in and year out, the NFL has more juicing problems than the WWE (or whatever it's called now). Who could possibly forget The Whizzinator?! Yeah, the league has done a pretty solid job of staying on top of testing, but that hasn't stopped players from trying. Am I going to stop watching the NFL? Nope. I'll watch every week...once it comes back...if it comes back...please come back?!
...The NBA isn't too far removed from the Tim Donaghy scandal. Anybody who watched the Heat-Mavs Finals knows the effect that clown had on the series. Even still, there are questions surrounding some of the remaining refs. Will that stop me from watching the playoffs this year? No way. I'll watch every single Celtics blowout loss...(me sobbing)
...You all know how much I love college basketball. I'm already ranking teams for next year! Can you think of a more corrupt sport? Last week, the National Championship was won by a coach who is already suspended for parts of next year due to recruiting violations. Many feel like he got off easy and, perhaps in time, more will come out. Heck, even the coach of my team has issues! Regardless of opinion, there's definitely a ton of smoke billowing from John Calipari and it's not hard to assume there's a fire. Those are only two examples of a sport full of corruption.
In thinking about this, I definitely have a better understanding of why people become jaded and put off by the sports world. It really is as corrupt as anything out there, and that makes me sad. The fact that I felt nothing towards Manny Ramirez sucks. I could have even been satisfied with a feeling of anger or betrayal for corrupting my favorite memory! At least I would have cared. But no, I feel nothing. A guy who was once viewed as an all time great is gone, and nobody cares. That's where baseball is and that's why I can't go back. Maybe it's hypocritical of me to judge, but it's kind of impossible to not do so. At least with the other sports, I still have untainted memories. For now.
So, what am I trying to say? Honestly, I have no idea! I have no clue how to process this bizarre situation. I still love sports, despite the corruption, but I sometimes worry about another sport becoming like baseball to me. How am I going to feel about the NBA if the Celtics make the Finals and another referee scandal robs them of a championship? How am I going to feel if Calipari really is a cheat and banners start coming down from the rafters? How am I going to feel if a new blood testing policy reveals a huge net of cheating in the NFL? I don't see any of those things happening, but then again, in 2004, I had no inkling of the scope of baseball's problem!
To summarize, I decided to write a little letter to myself:
Dear Jon:
Hey buddy, I know this whole Manny Ramirez thing was kinda weird. I guess we all found out what Manny being Manny actually means! I'm just concerned you didn't grieve over his loss at all. After all, you guys were pretty close at one point. Doesn't it seem weird you didn't even go to the viewing? Doesn't it seem weird you didn't shed a single tear? I mean, I know you guys had a falling out and all, but I thought maybe you would have moved on by now. Obviously you haven't. Look man, I know you're disappointed with Manny and baseball, but what did you really expect? Did you seriously expect them to walk around with halo's on their heads? You know as well as I do that people do crappy things all the time! Athletes have been cheating since the beginning of sports! Did you think it would be different now?
Now, what's done is done. You and baseball are obviously not going to reconcile. I just want to make sure you don't make the same mistake again. You remember how betrayed you felt when the truth came out? Yeah, I know you do. Baseball broke your heart, but you were part of the problem and you know it. Please, don't let it happen again because I hate to see you that way! It seems like you have a great relationship with sports right now, and I couldn't be happier for you. I just want to make sure you aren't headed down the same path. Enjoy it for what it is and don't expect perfection out of it because it will only lead to more pain. I'd surely hate to see you apathetic about football or basketball years from now because you were dumb enough to idealize them.
Sincerely,
25 year old guy who plays too many video games
--------------------
A couple quick items to hit before I end this.
Congratulations to Sy Belohlavek from Columbus, OH for winning the Boris Diaw Time Bracket Challenge! Sy will be receiving an Amazon gift card for submitting the winning bracket in a year when literally everyone had a horrible bracket. Thank you so much VCU...
Congratulations to our friend Casey Richey. Casey and his wife recently gave birth to their first child. Soon, Casey will have all the Thomas the Tank Engine books memorized as well and we can commiserate...likely ending in a double suicide.
Prince was pushing me to write an entire post on how excited we are that Olivia Wilde is returning to House tonight. Believe me, I am quite excited....hot.
In case you were wondering; we haven't quit doing podcasts. My phone is having serious issues and I am sending it back to Motorola today for repair. I don't know if any of you have a Droid X, but mine reboots over and over and over...often during calls. As you can imagine, it makes podcasting difficult. I will try to do one this week using another phone. We'll see if that actually gets done...much like my taxes which I still haven't gotten either....and my wife hates me for it....
Email me at:
borisdiawtime@gmail.com
Follow me on Twitter at: @borisdiawtime