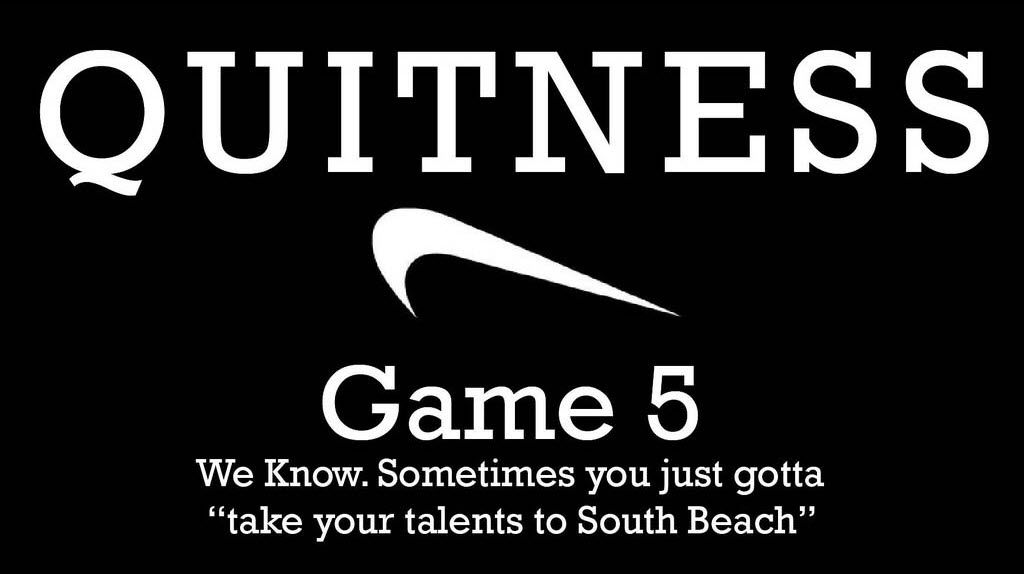 Tuesday night's Game 4 reminded me of something...can you guess what it is?
It's been nearly two weeks since I've sat down to write something. TWO WEEKS! In all honesty, I kinda feel like Jim Tressel with an "important" email on my computer…lost, confused, scared, don't know what to do. (Too easy?) Don't worry though, I'll pull it together before anybody finds out Boris Diaw Time handed out fifty free cars…wouldn't want to get hit with forty scholarship reductions, forfeiture of wins, and a three year bowl ban! (Whoops! Sorry OSU fans!)
All joking aside, I was, in fact, on vacation last week. My family and I went to Ocean Isle Beach, NC for the week. Sadly, there was an unfortunate lack of internet at our house, which severely hampered my ability to post anything. Yes, I suppose I could have written a few things and posted them as soon as I got back, but that would require a strong measure of motivation on my part; something I strongly lack in the best of circumstances, much less on vacation. Still, I'm finally back, I've finally worked my way through the giant pile of real work sitting on my desk at my real job, and I'm finally ready to knock something out. So, in case you thought I had quit BDT…or more likely, you hoped I had quite BDT…you are sadly mistaken. You see, I'm no quitter…(useless ramblings on my part about me not being a quitter)…but I know someone who is…(here it comes)…(won't be long now)…(almost here)…
In all seriousness, you had to know that was coming. I have wasted countless hours of my life railing against Lebron, and very few events in life have given me as much pleasure as what went down Tuesday night. Eight points in forty-six minutes of playing time is fine if you're Udonis Haslem or Mike Bibby, but this is Lebron James! Despite my intense hatred for him, it's impossible for even me to not acknowledge that Lebron is the single most talented and physically gifted player in the game today. Yet here we are, staring at an eight point effort in what could have been the definitive knockout blow in the series. Up 2-1 in the series, playing at Dallas with two more guaranteed games in Miami, with a win all but assuring Lebron of his elusive championship…and he puts up eight points.
Perhaps the most striking aspect of Lebron's magical disappearing act is that I wasn't surprised in the slightest. Not even a little. Now, I wasn't necessarily expecting this to happen, but it certainly isn't a shocking development in Lebron's career. The question, of course, is what really happened Tuesday night? Was Lebron simply differing to his teammates or was it something more? We've all heard Lebron talk about how he prefers facilitating to scoring, and he did have seven assists in the game. Perhaps he was trying to play the good teammate and get everyone involved.
On the other hand, this performance seemed all too familiar. While the throngs of Lebron apologists were out in force, defending their hero, all I could think about was Game 5 of the 2010 Eastern Conference Semi-Finals. We now remember that game as the "Quitness" game, when Lebron checked out of the series (and Cleveland), leading to an embarrassing 120-88 blowout loss. On that day, Lebron scored 15pts on 3-14 shooting, and added 6rebs and 7asts in 41 minutes. The only differences in the two games is that instead of facing a beaten up Dallas team, Lebron was facing a loaded (and healthy) Boston team. And instead of leaving it to Mo Williams and Antawn Jamison to carry the load, Lebron turned the game over to Dwyane Wade and Chris Bosh. The opponents and teammates are, however, just ancillary pieces to the real story, as Lebron's "contributions" (or lack thereof) remain the same.
There are many theories as to what actually happened in Game 4. As I mentioned earlier, the biggest theory is that Lebron was playing the role of facilitator. He is, after all, one of the best passers in the game and D-Wade was on fire. Why not let him take over the game? Just for the sake of argument, let's go along with this for a second. Let's assume Lebron was being the good teammate. If that's true, then are talking about a situation where Lebron James is reduced to a role player. LEBRON JAMES IS MAKING HIMSELF A ROLE PLAYER! WHAT?! I've talked about this sooooo many times before, but it's worth mentioning again. What angered me about Lebron's decision to join forces with Wade and Bosh is the blatant admission that he couldn't get it done as a franchise player. He essentially threw up his hands and quit. If we are seriously talking about a situation where Lebron has willingly reduced himself to being a "glue player" then my worst fears have been realized. THIS IS LEBRON JAMES! HE'S THE MOST TALENTED PLAYER IN THE LEAGUE! And he's a role player?

I don't think so. Even if you wanted to argue that Lebron was being a facilitator, you'd have to figure out some way to explain why he meekly scampered into the corner on every offensive possession down the stretch.
Try as they might, the Lebron apologists cannot possibly explain away Tuesday night. After two epic breakthrough performances against Boston and Chicago, where he hit clutch shot after clutch shot in both series, this type of game is unacceptable. It's not good enough to say he was facilitating, it's not good enough to say he's afraid of the big moment, and it's not good enough to say he's not ready for this type of situation. Lebron James has already been to one NBA Finals, he's already had some big playoff performances, he's had countless reps in crunch time…heck, he's a two time MVP! He's more than ready and equipped to handle a Game 4 in the NBA Finals.
So, what really happened Tuesday night? Personally, I believe Quitness 2.0 happened Tuesday night. I believe Lebron James, for whatever reason, checked out and quit on his team. Don't just take my word for it though; listen to what others have to say. In a Wednesday appearance on The Herd, ESPN columnist and longtime Lebron James reporter Brian Windhorst suggested something weird was going on Tuesday night. He didn't quite say the word quit, but he strongly implied it. In addition to that, Dallas guard DeShawn Stevenson (who was guarding Lebron) said Lebron "checked out" of the game.
Of course, morons like Colin Cowherd quickly came to Lebron's defense by explaining that Lebron was simply fatigued because he was playing so many minutes. He pointed out that Lebron was averaging 44 minutes per game while Michael Jordan would regularly only play 32-34 minutes a game. Good job with the research Cowherd! Too bad Jordan averaged 41.8 minutes per game in his playoff career. In fact, Jordan averaged 41.5 minutes per game in his last playoff appearance, playing in 21 games…and he was 34! Lebron James is 26 years old! Please, stop with the fatigue excuse!
The fact is Lebron James quit in Game 4. If you're surprised, then don't be. He quit on Cleveland in last year's playoffs, he quit on Cleveland's franchise last offseason, and he quit on himself by subjugating his game to D-Wade. Lebron James is a quitter. Yes, he's supremely talented, but he's a quitter. Of all the negative things said about Lebron, this is perhaps the most condemning. To be labeled as selfish and arrogant is no great thing, but to be called a quitter is something else entirely. Perhaps the thing that most upsets me about Lebron is how disappointing he has been. He is, perhaps, the most gifted player to EVER play the game. We expected so much greatness when he entered the league, and have been rewarded with very little. Somehow, all that talent and greatness has given us a role player and a quitter.
Perhaps Lebron will bounce back in Game 5. Perhaps he will slap a triple double on the board and completely eviscerate the Dallas Mavericks. I guess I wouldn't really be surprised at that either, considering that he's capable of doing it every single night. Still, the damage has been done. This is Dwyane Wade's team and this would be his championship. Lebron is officially Scottie Pippen.
·

One quick thing; can we please stop with the MJ-Lebron comparisons. Seriously, just stop. I'm going to physically assault the next person who mentions it. Jordan never scored less than 22 points in an NBA Finals game. You think Jordan would have been satisfied with standing in the corner, avoiding the ball? Believe me, if Miami could replace Lebron with Jordan in his prime, this series would be over right now. And the games wouldn't be close.
·

Here are my thoughts on the series so far. For one, this has been an extremely sloppy series. Sure, the defenses have been pretty good, but that doesn't excuse the mass quantities of turnovers and missed open jumpers. Still, the games have been close and Dallas' big comebacks have been very entertaining. As you know, I desperately want Dallas to win, but I'm not buying into them controlling the series. All the pressure is on them to win Game 5 tonight. Going back to Miami down 3-2 is simply not an option. Perhaps I should be more confident in Dallas to take care of business tonight, but it's hard for me to be optimistic. The truth of the matter is, while the series is even at 2-2, the play has been anything but even. Miami has dominated 14 out of 16 quarters and, if not for two epic collapses, would have swept the series already. On the other hand, Dallas has shot the ball like garbage and has managed to keep the series even. I'm certain Dallas has at least one big shooting night in them, and I feel like tonight might be it. Going back to Miami up 3-2 with hot shooters would put a tremendous amount of pressure on Miami. I think the series goes seven with Dallas winning the whole thing. It's not that I think Dallas is the better team; it's just that I trust them much more in big games.
·

I think Jason Kidd might actually be dead.
·

I'm certain Peja Stojakovic is actually dead.
·

My father-in-law was at our house last night and he took another opportunity to hate on J.J. Barea. I tried to defend him earlier in the series. I didn't defend him last night. I think the father-in-law has won me over because I'm starting to hate Barea too…JUST MAKE ONE FREAKING LAYUP BAREA! JUST ONE!
·

I still can't figure out why Rick Carlisle won't play Corey Brewer! First, he sticks with Stoj-useless defender-ovic. Then, much to my dismay, I look up to see Brian Cardinal on my TV…BRIAN CARDINAL! STAINING MY TV WITH HIS NASTINESS! Seriously, Brewer is kinda good…why? I don't understand!
·

If you're looking for a funny show to watch, you should check out Workaholics on Comedy Central. It's a lot like Office Space in a weekly half hour format. Believe me when I tell you, it's extremely stupid and I nearly passed out laughing last night.
FYI – I've been doing a lot of NBA Draft research and it's produced some pretty interesting information so far. I, for one, am obsessed with the NBA Draft and I'll be spending an inordinate amount of time on it after the Finals is over. Until then, I have a lot of stuff to catch up on, so expect a lot of new stuff the next week or so.