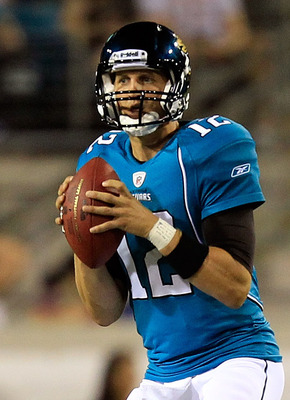 Savvy move by Jacksonville! Let the Sweepstakes begin!
Through the first 3 weeks of the preseason, the top contenders in the Andrew Luck Sweepstakes have remained mostly static. No major injuries have changed the landscape; no random and unexplainable Cam Newton emergence has turned the race upside down. Yep, things have been relatively calm on the "Suck for Luck" front…until now.
This week's earth-shattering news that Peyton Manning will miss real football games has rocked the football world to its core. As I've said before, I believe Peyton Manning to be the greatest QB I've ever seen. Personally, I hate him as a football player, but I can't deny what he's done right in front of my eyes. Without him, the Colts would be…well, uh, bad. Really, really bad. And apparently we're about to find out exactly how much Peyton Manning meant to that team.
As I've said a million times before, I am not privy to the actual details of Manning's condition. I can only assume, given the nature of the injury and the fact that every Colts fan is currently either on the ledge of a building or peering over the side of a bridge, that it's not good and that he could miss significant time. Again, I'm not speculating as to how much time he'll miss. Manning very well could come back in a few weeks and lead the Colts to another division crown. On the other hand, he might also opt to retire to a peaceful life of watching old Sony commercials and throwing darts at Tom Brady posters.
Whatever the case may be, the Colts have the potential to be serious players in the Andrew Luck Sweepstakes. Given that, I had to include them.
Since the preseason is done and the real games are starting, I went ahead and did my final preseason ranking of the teams. Please note that I have literally zero idea where to put Indianapolis, so they get their own special group apart from the regular rankings.
Current Starter: Peyton Manning
Preseason Totals: He's Dead
Substitute Starter: Kerry Collins
Preseason Totals: 5-10, 45YDS, 62.5 QB Rating
Unfortunately in the Mix: Curtis Painter
Preseason Totals: 19-37, 266YDS, 2TD, 1INT, 81.6 QB Rating
Summary: Well, what is there to really say? I can't honestly rank them anywhere, because I don't know how long Peyton Manning will be out. It goes without saying that if he plays, the Colts will quickly drop from this list. However, if he misses significant time – like, the entire season – then the Colts shoot quickly up these rankings. Given their woes on the offensive line, I expect Kerry Collins to be buried 6 feet under by Week 3. Then, it's Curtis Painter's turn. We all know where that leads…straight to Andrew Luck-ville!
Current Starter: Matthew Stafford
Preseason Totals: 25-33, 395YDS, 5TD, 0INT, 154.7 QB Rating
Summary: I'm not entirely buying into the hype, or their 4-0 preseason record, but my negative feelings are definitely beginning to melt away. As I've said before (along with literally everybody else in the world), this whole thing depends on Stafford's health. It's impossible to make a definitive judgment on him, given his small sample size of games, but he looks good. I mean really good. Obviously he's not going to post a 154.7 QB Rating against real defenses (aka. not the Patriots "defense" that Lions fans insist was playing hard…get real people). However, if he can play like he did at the beginning of last season, then 8 wins is definitely not out of reach. All in all, they aren't going to be bad enough to get Luck. Not even close.
Current Starter: Colt McCoy
Preseason Totals: 28-46, 320YDS, 4TD, 1INT, 101.7 QB Rating
Summary: Full disclosure: I've developed a full-fledged man-crush on Colt McCoy. I know, I know…it's weird. I get it. I just can't help myself. I love his scent. I love his musk. And when this thing…OK, let's just skip the rest and say that we are getting an apartment together. Anyways, I'm super high on the Browns right now. Colt has looked even better than I expected! Combine that with their ridiculous easy schedule, and you might actually have a playoff team, Cleveland. Sadly, Peyton Hillis' impending injury will likely end that dream, but it was fun while it lasted. Regardless, I'm sold on Colt as their franchise QB and I don't see any way they end up winning the Luck Sweepstakes.
Just fine with mediocrity, thank you very much
Current Starter: Kevin Kolb
Preseason Totals: 22-40, 356YDS, 1TD, 0INT, 93.3 QB Rating
Summary: The Cardinals are sold on Kolb as their franchise QB. Good for them. Unfortunately, he's only average. I'd be very interested to know if they truly believe he's a potential Pro Bowler or if they just made the move because he's not John Skelton. Honestly, I have a sneaking suspicion that it's the latter. If that's the case, then Arizona is even dumber than I thought. Given their division and Kolb's supporting cast, it's not hard to see Arizona winning 7 or 8 games. That might actually win you the NFC West, but it certainly puts you out of the Luck Sweepstakes.
Current Starter: Donovan McNabb
Preseason Totals: 24-37, 285YDS, 1TD, 1INT, 86.0 QB Rating
QB of the Future: Christian Ponder
Preseason Totals: 27-49, 290YDS, 1TD, 0INT, 79.5 QB Rating
Summary: I've come full circle on this McNabb thing. I started out hating it and thinking that Minnesota would lose tons of games if they brought him in. Now, I think Minnesota is extremely undervalued. Honestly, I wouldn't be shocked if they won 10 games this year and snagged a Wild Card berth! So, why do I have them at this spot? Because, at this point, McNabb is about as reliable as a Gypsy. Don't forget, this is the same guy who got benched for Rex Grossman last year. I don't blame the Vikings for bringing him in. If they are definitely convinced they have one last run in them, then this is the right thing to do for their fan base. However, it could set them back long term. They don't really know what they have in Ponder, and they certainly have put themselves out of position for Luck.
Current Starter: Kyle Orton
Preseason Totals: 28-42, 408YDS, 2TD, 1INT, 104.1 QB Rating
Former Savior of the Future: Tim Tebow
Preseason Totals: 20-31, 310YDS, 1TD, 0INT, 108.3 QB Rating
Summary: I've talked about this many times before, but I think it's a huge mistake for Denver to not give Tebow a shot. Let's face it, they're not going anywhere with Orton. At best, they're an 8 win team with him at the helm. That's fine if you want to be the Houston Texans, but not if you want to actually compete someday. I'm not saying Tebow is definitely the answer for them, but it's worth it to find out. If he is, then the direction of the franchise is set and you can begin to build around him. If not, then at least you aren't held hostage by the possibility anymore. Right now, the Broncos are in limbo. They have a weird dynamic going on, and seemingly no plan. Honestly, if I were a Broncos fan, I'd rather take one or two really bad years then deal with mediocrity for five.
Thanks for nothing, Peyton Manning!
Current Starter: Matt Hasselbeck
Preseason Totals: 26-42, 301YDS, 83.5 QB Rating
QB of the Future: Jake Locker
Preseason Totals: 32-49, 316YDS, 2TD, 1INT, 88.5 QB Rating
Summary: At one point, I thought Tennessee might be a legit challenger for Luck. Now, it's entirely possible that they win the division! With Manning out, the Colts are probably two easy wins. And Jacksonville is…well, Jacksonville. Obviously, the Texans are the most talented team in the division, but really, can you trust them? Didn't think so. Sorry Titans, you're stuck with a long future of Jake Locker overthrows!
Trust me, we're a lot more serious than you think!
Current Starter: Alex Smith
Preseason Totals: 20-36, 198YDS, 0TD, 2INT, 48.1 QB Rating
QB of the Future: Colin Kaepernick
Preseason Totals: 24-50, 257YDS, 0TD, 5INT, 23.9 QB Rating
Summary: I originally thought the 49ers would be too good and have too many easy wins to contend for Luck. While I'm still hesitant to call them a true contender, I'm sensing a greater commitment from them. Preseason or no, the QB situation in San Francisco is bleak. Alex Smith looks like he might be angling for a one way ticket to Oakland, where all former first round QB's go to rot. Then there's QB of the Future, Colin Kaepernick. I think there's a very good chance that Kaepernick can be a true franchise QB…on Madden. In real life, he's probably less accurate than me. And I throw like a girl. So yeah, the 'Niners might be legit players here.
Unpredictable Wild Cards (Just follow me on this one…read the summaries before you judge)
Current Starter: Tarvaris Jackson
Preseason Totals: 32-55, 269YDS, 1TD, 2INT, 61.9 QB Rating
Starter within a month: Charlie Whitehurst
Preseason Totals: 42-62, 405YDS, 1TD, 0INT, 91.1 QB Rating
Summary: Any team with Tarvaris Jackson is definitely in contention, but how long T-Jax remains the starter is the issue at hand. Despite the fact that he more closely resembles the Unabomber than an NFL QB, Charlie Whitehurst might actually be good enough to win a few games in their crappy division. I know, sounds crazy! But seriously, he didn't look horrible in the few times I saw him. Given their division, any level of competence might be a death knell in the hotly contested Luck Sweepstakes.
Current Starter: Andy Dalton
Preseason Totals: 36-60, 328YDS, 1TD, 3INT, 59.6 QB Rating
Summary: If Andy Dalton remains the starter all year, then Cincinnati will have an excellent shot at this thing. That's IF Andy Dalton remains starter. And no, I'm not referring to Bruce Gradkowski. There are rumors that Carson Palmer is considering a comeback to Cincinnati…essentially to screw over the team. Honestly, if I were Palmer, I'd do it. Like, right now. Not only would I ruin their precious cap situation and the chemistry they've worked so hard to achieve, but I'd also cost them the one building block they need to have a real team. As a former 'can't miss' #1 overall prospect, Palmer understands what Mike Brown can do to a promising young talent. He owes it Luck!
Current Starter: Chad Henne
Preseason Totals: 29-45, 446YDS, 2TD, 2INT, 93.4 QB Rating
Summary: It's true that Chad Henne didn't look totally awful during preseason, but I'm not expecting that to carry over into the real games. He showed the same type of confusion and indecisiveness that plagued him last year, so there's no reason for Dolphins fans to have any hope. Barring a miracle from Henne or Reggie Bush, Miami is in for a lot of losing. Also, they're in for a couple of epic battles with the…
Current Starter: Ryan Fitzpatrick
Preseason Totals: 26-42, 252YDS, 2TD, 1INT, 84.6 QB Rating
Summary: The two games with Miami are going to be awesome! As much as I hate Buffalo's team (mostly the defense), their offense could be surprisingly decent. Fred Jackson and C.J. Spiller are a nice 1-2 punch at RB, and Ryan Fitzpatrick has shown that he's a legit NFL QB…if only barely. Given their overall lack of talent, I'm not counting them out of this, but for now, I can't put them in with the true contenders.
Current Starter: Jason Campbell
Preseason Totals: 31-44, 366YDS, 1TD, 1INT, 93.6 QB Rating
Summary: I had them ranked a few spots higher at the beginning of this, but I came to a pretty significant realization that forced me to drop them a few spots. Al Davis doesn't actually know they're in contention! He seriously thinks they're going to make the playoffs! Of course, he also thinks it's 1975, but that's beside the point. Of the 4 contenders, they are clearly in the worst position to land Luck. Campbell is actually an NFL QB, the McFadden-Bush tandem is legitimately good, and the defense is somewhat stout. They'll still struggle to win games, but they should be able to eke out a few more than the next 3 teams.
Current Starter: Cam Newton
Preseason Totals: 24-57, 300YDS, 1TD, 0INT, 64.9 QB Rating
Summary: Cam Newton has looked every bit as bad as I expected, as his 42% completions is the stuff of legends. Unfortunately, I'm feeling a tad bit less optimistic about them getting the"Get Out of Cam Newton Jail Free" card. Like the Raiders, they have a pretty decent defense that should keep them in a few extra games. And, like the Raiders, they have a nice group of RB's that can at least help them play a ball control offense. Unlike the Raiders, the Panthers owner isn't actually dead. Best case scenario is for them to come to a harsh reality about Cam after a few weeks and call 40 passes a game from thereon out, effectively guaranteeing a winless finish to their season.
Current Starter: Luke McCown???
Preseason Totals: 12-18, 133YDS, 2TD, 0INT, 125.5 QB Rating
QB of the Future: Blaine Gabbart (Yeah, I know I've been spelling it wrong. I'll start spelling it right when he gives me one single reason to make it worth my effort.)
Preseason Totals: 35-70, 365YDS, 1TD, 1INT, 64.3 QB Rating
Summary: The Jags have struck the first major blow in the Luck Sweepstakes! Cutting Garrard just days before the season opener is a brilliant stroke for a franchise that willing gave up valuable draft picks for Blaine Crappart. Cutter and I had a conversation about this yesterday, and my immediate question was whether or not Gabbart is already a sunk cost. And I'm serious! He's even worse than I could have imagined! The best bet for the Jags is to get Gabbart out there as soon as possible. Just like the Broncos with Tebow, the Jags need to see what they have before next offseason. In all seriousness, there's no downside to playing him! If he's good, then you've got your guy. If he's bad, then you probably lost enough to get Luck and you can move on. Win-win! (And then they move to LA…ah, happy endings.)
Current Starter: Rex Grossman
Preseason Totals: 34-53, 407YDS, 2TD, 1INT, 92.3 QB Rating
Also in the Mix: John Beck
Preseason Totals: 30-48, 356YDS, 1TD, 2INT, 74.7 QB Rating
Summary: The 'Skins started off being ranked #1 and they still sit atop their perch. After naming Rex Grossman the opening day starter, how could anyone else top them? IT'S REX GROSSMAN!!! By the end of the year, I expect the 'Skins to have burned through Grossman, Beck, and Kellen Clemons…and also to have close to 16 losses.