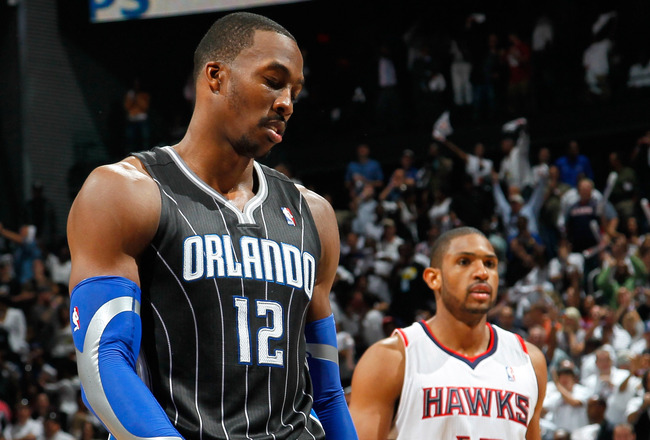 The 2012 Orlando Magic, everybody!
When last we left the Dallas Mavericks, they were struggling to score (97.8 Off Eff*) and unable to rebound (45.21 TRR*). Both numbers were well below league average, and it's no wonder that they were getting blown out on a semi-nightly basis. Well, don't look now, because Dallas has won five of their last six, including a win at home over Oklahoma City and a win at Boston. Not a bad way to rebound!
Speaking of rebounding, that's exactly what the Mavs have done well during this stretch, bringing their TRR waaaaay up to 49.16. That's technically right about average, but to improve their TRR nearly 4 full points in just a week is remarkable. They currently lead the league in DRR, so it looks like they've patched up that early hole.
* Offensive Efficiency – Points per 100 Possessions
* Total Rebound Rate – Percentage of available rebounds grabbed
* Defensive Rebound Rate – Percentage of available defensive rebounds grabbed
---
I really laid into Dwight Howard after he looked so completely disinterested in Orlando's first game of the season. At the time, it certainly looked as if he had his mind on being somewhere, ANYWHERE, other than Orlando. Consequently, I was convinced the Magic weren't going to be any good this season.
While it would be tempting for me to get caught up in Orlando's 8-3 start and backtrack on my initial impression, I'm going to hold firm for the time being. Here's my case:
Orlando's 8-3 record is fraudulent. Their 8 wins have been against Houston, New Jersey, Charlotte, Toronto, Washington, Sacramento, Portland, and Golden State. Combined record: 26-58. Their win over Portland is their only victory to date over a team with a winning record. They lost badly to Oklahoma City on opening night and they lost badly to Chicago one week ago. Heck, they even lost to Detroit! So no, I don't think Orlando is an elite team.
Dwight Howard is appreciably worse than last year.
| | | |
| --- | --- | --- |
| | 2011 | 2012 |
| Points Per Game | 22.9 | 18.0 |
| Field Goal Attempts | 13.4 | 11.9 |
| Free Throw % | 59.6 | 42.6 |
| Usage Rate | 27.22 | 24.07 |
| True Shooting % | 61.6% | 56.1% |
| Efficiency Rate | 28.33 | 24.70 |
| PER | 26.18 | 23.41 |
Look, I can understand a slow start to a season, but Howard should be dominating the type of competition he's been up against. I continue to believe that he's playing mostly disinterested basketball, and that he's angling for a way out of town. It really is shameful, because the improved play of Hedo Turkoglu and Ryan Anderson could have actually made this an intriguing team come playoff time. Who knows, maybe Howard will get his act together by then.
---
Speaking of fraudulent teams, I'm not buying that the 76ers are a legit contender. Not for a second. Like Orlando, they have exactly one win against a team with a winning record. That team was the Indiana Pacers, who didn't have Danny Granger due to food poisoning. That means they've beaten literally nobody of note. They have the same players as last year and there's no reason to expect different results. Call me when they beat Miami or Oklahoma City, OK?
---
File this one away under 'weird stats.' Kevin Love is shooting just 42.4% from the field, but is shooting 40.7% from downtown on 5.4 attempts per game. For a wide bodied post guy like Love, that doesn't make a ton of sense. Yeah, his lack of height and athleticism doesn't make him the most high percentage guy from the paint area, but is there really any reason for him to be shooting 47% from 9 feet and in? I'm gonna say no…
---
Our good friend Boris Diaw is still taking the league by storm, and he's leaving a huge swath of destruction in his wake. How else would you describe the performance of a 600lb French guy who's averaging 9.3 PPG, 7.1 RPG, and taking an obscene 3.3 three pointers a game?
Wait, that's not very good, you say?
---
Make of this what you will, but Phoenix, Golden State, Los Angeles (Clippers), and Oklahoma City all rate below average in pace. Color me confused.
---
At some point in the offseason, Lebron and Wade must have watched some film and said, "Hey, we take an awful lot of dumb, contested three pointers! Maybe we should stop!" If that scenario did indeed happen, then never a truer observation has been made. Lebron and Wade are absolutely devastating off the dribble, and their penchant for floating around the perimeter and settling for low percentage bombs was puzzling at best. Thus, it can only be considered a good thing that they've committed to taking higher percentage shots. However, while their intent was obviously admirable, their execution has been…well, let's just say their new strategy makes less sense than Tim Tebow winning a Super Bowl does. Here are the differences in their three point shooting from last year to this year:
| | | | |
| --- | --- | --- | --- |
| | 3pt Attempts | 3pt Makes | Effective FG% |
| 2011 Lebron James | 3.5 | 1.2 | 49.5% |
| 2012 Lebron James | 0.5 | 0 | 0% |
| 2011 Dwyane Wade | 2.7 | 0.8 | 45.9% |
| 2012 Dwyane Wade | 0.4 | 0 | 0% |
That's right, Lebron and Wade have attempted only 9 three pointers all seasons. Again, their determination to not settle for threes is admirable, but it isn't smart and it's making them worse. Why's that? Well, they're taking about the same amount of shots each game, so let's see where those extra shots are going.
| | | | |
| --- | --- | --- | --- |
| | Attempts from 16-23 feet | Makes from 16-23 feet | FG% |
| 2011 Lebron James | 5.4 | 2.4 | 45% |
| 2012 Lebron James | 7.2 | 2.8 | 39% |
| 2011 Dwyane Wade | 3.7 | 1.4 | 37% |
| 2012 Dwyane Wade | 6.3 | 2.1 | 34% |
Both players, especially Wade, are taking substantially more attempts from 16-23 feet. By the way, those are the worst shots in basketball. The reward for those shots is the same as a 5 footer, while the odds of success are about the same as taking one step back and shooting a three. And you can see in the 2011 effective FG% both players posted from behind the three point line that "settling" for the three was a far more rewarding outcome than what they are both doing now. In fairness to Lebron, he has also boosted his shots at the rim by 1.7 attempts, so it's not as if he exclusively taking low percentage two pointers. Still, the point stands. If Wade and Lebron are committed to backing off the three point line, then they need to extend that commitment to attacking the basket even more than they already do, because settling for long twos is an even worse proposition than shooting 5 threes a game.
---