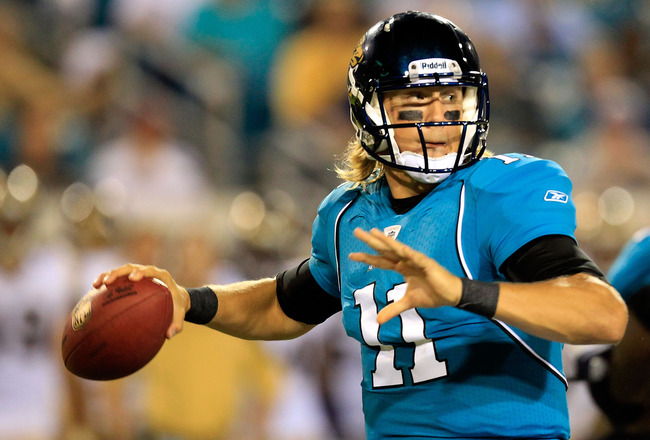 Just when you thought I couldn't come up with a new name for him...
Though the Super Bowl is over and games don't begin until next fall, the NFL season never truly ends. In many ways, the "game" that goes on in between the games is just as important, if not more so, than what happens on the field. Here, in the offseason, is where the course of all 32 NFL franchises is determined. To highlight the importance of this period, and to take a peek at what each team is facing, I'll be embarking on an ambitious series in which I briefly preview each team's offseason. We'll examine the major questions each team faces, what type of cap room they have, who they should be targeting in the draft, etc. My goal is to complete this prior to the start of free agency (March 13)…..which will likely not happen. Oh well.
We continue the previews with a team that many forgot was even in the NFL, the Jacksonville Jaguars. In case you missed them, here are links to each of our past previews:
*Cap figures are taken from South Florida Sun-Sentinel. Estimated cap is $124 million.*
Jacksonville Jaguars
2011 Record: 5-11
PPG For: 15.2 (t-28th)
PPG Against: 20.6 (11th)
2012 Cap Number: $107,270,274
Draft Position: #7 Overall Pick
New owner, new coach, same old Jaguars. Probably wouldn't go a long ways towards selling tickets, but it would certainly be an appropriate motto for the 2012 season, no?
The Good:
Maurice Jones-Drew won his first career rushing title last season, accumulating 1606 yards. That doubles as a career year and a literal miracle considering the fact that opposing defenses could stack the box with all 11 defenders without any concern of Buhlyaynn Gerbahrtt (remember, I refuse to spell his name right…from here on out, I'm referring to him as BADGAB) making them pay. Also good was the defense, which remained effective despite finishing near the bottom of the league in sacks. Big money was spent on several players last offseason, and it had to be encouraging to see that money not go to waste.
The Bad:
The passing game is just awful, finishing dead last in yards, Y/A, and QB Rating. And to think, the Jags were so excited to trade up for BADGAB! With a 1600 yard rusher, there really is no reason to finish 28th in scoring, even if the run game isn't as important as it used to be. BADGAB didn't necessarily have the greatest weapons to work with, and the protection wasn't always stellar, but how do you not have ANY success when the opposing defense is consistently putting 8 and 9 guys in the box? You can't even have one game, NOT ONE, in which you show the supposed potential you were drafted on? Pathetic…
Key Free Agents: S Dwight Lowery, CB Rashean Mathis, CB Will Middleton, DE Jeremy Mincey, DE Matt Roth, K Josh Scobee, T Guy Whimper
3 Key Questions:
#1 – Is BADGAB the right guy?
I can certainly understand a rookie QB struggling. All of them do! And I can certainly understand BADGAB looking unprepared and uncertain given the gimmicky offense he ran in college, given the lack of talent at WR, and given that he was installed as starter mid-season. It's only fair to lower expectations in his situation. But exactly how low are these expectations supposed to go? BADGAB demonstrated every reason why I was so skeptical of him going into last year's draft, and then some. His throwing motion continues to be goofy, his accuracy is even worse than I thought, and his pocket presence is absolutely abysmal. Problem is, the Jags invested the 10th overall pick on him, and it would "look bad" if they gave up on him after just one year. Is that the right call? Who knows! Maybe BADGAB worked hard in the offseason and comes back looking like the QB Jacksonville thought they were getting. Then again, maybe he's just bad. We'll find out this year, as the Jags are intent on giving him another shot.
#2 – Was Mike Mularkey the right hire?
Getting rid of Jack Del Rio was the right move. It came several years too late, but it was the right move. But replacing him with Mike Mularkey? Eh….can't say I'm on board with that. Mularkey's resume is spotty at best, and his previous head coaching gig (Buffalo) was an unmitigated disaster. Honestly, I think he did a poor job last year as OC of the Falcons, so I don't have a clue as to what Jacksonville saw in him. Perhaps, as it has been suggested, he's a part of some elaborate scheme to move the team to Los Angeles. Since I have a hard time buying any scenario in which the Jags show foresight, I'm discounting this one. What I won't discount is the fact that Mularkey came cheap. If that's the reason, then shame on Jacksonville. If they really liked Mularkey…well, more power to them.
#3 – Should they trade Maurice Jones-Drew?
I'm sure some Jaguars fan will blast me for even suggesting this, but perhaps the franchise would be better off getting top dollar for him while they still can. Remember, the lifespan of running backs is very short. Considering that Jones-Drew will turn 27 next year, and has carried the rock nearly 1500 times in his career, it's a good bet to assume a decline in the near future. Maybe it's not this year, and maybe not even next year, but it WILL happen. Given the state of the franchise, there is almost no chance the team will be competitive while Jones-Drew is still in his prime. It would be a shame for a player like Jones-Drew to waste away on losing teams, and it would be a shame for Jacksonville to get nothing in return for one of the best running backs in the league. The Jags would undoubtedly have many interested parties, and could potentially land quite a haul to aid in the ongoing rebuild. Of course, there's no chance of it happening this offseason, since they still believe BADGAB is the guy. If he is, then this entire conversation is moot. If he's not, then Jacksonville better hope MJD stays healthy this year. As we saw with Adrian Peterson, it only takes one good shot to take out even the most durable backs.
Draft Thoughts:
If I were running the Jags, I'd cut my losses with BADGAB (he's a sunk cost) and go full-bore after Robert Griffin. Since there's apparently 0% of that happening, I'll just move on.
If Justin Blackmon is on the board, he needs to be the pick. Jacksonville hasn't had a star WR since the days of Jimmy Smith, so netting one at #7 would be pretty incredible. Of course, there's little chance he'll be around when Jacksonville picks. Another option would be trading down to land Michael Floyd. Cincy at #17 might be willing to trade up for Trent Richardson (if he's on the board), and Floyd has consistently been going in the 18-22 range in every mock draft I've seen. The most likely scenario, and the one I've seen on nearly every mock draft, has Jacksonville taking Quinton Coples. Coples would provide an immediate upgrade at DE, and he could give them the big time pass rusher that has eluded them for the longest time.
If the price is right, trading up for Blackmon is probably the right call. However, they traded up to get BADGAB last year, so they might be unwilling to move up two years in a row. With that in mind, Coples is probably the right pick. Though the team desperately needs help on offense, Coples will be the BPA at #7, and he'll also fit a pretty major need. Can't do much better than that! Not only that, but what point is there in drafting a wide receiver when you don't have a QB to throw to him?
Summary Thoughts:
Adding Coples to this defense would make them pretty formidable, and would certainly keep them in more games than their pitiful offense deserves to be in. If MJD can churn out another 1500+ yards, then they'll probably stay in the 5-7 win category. Basically, they'll be treading water for a season. The real problem on this team is BADGAB, and unless he develops A LOT in the offseason, the Jags are going to be stuck in idle.