One is a winner, the other a choker...does that sound right to you?
After enduring the annual barrage of hasty, over reactionary post Super Bowl analysis, I have but one conclusion to draw. Under no circumstances would I ever, *EVER*, want to be an NFL quarterback. Shy of the presidency of the United States, I can't think of a more polarizing job.
One the one hand, it's the absolute best job in the world. Just ask Eli Manning! Thanks to a handful of good/great games, and an inordinate amount of luck, the younger Manning is now a sure-fire Hall of Famer and is maybe the better Manning after all. That's right, a guy with a career completion percentage of under 60%, who has only had a QB Rating above 90 twice in his career, and who has had just one great season in eight years is a HOF lock. And why? Because his TEAM, and I do emphasize TEAM, won four games in 2008 and four games in 2012. Great gig if you can get it!
On the other hand, it's the absolute worst job in the world. Just ask Tom Brady! Despite putting together one of the most dominating stretches of quarterbacking that anyone in history has ever put together, Brady is now a choker. His skills are clearly eroding, he's no longer clutch, and the Patriots will never win another Super Bowl with him. And why? Because his TEAM lost one game in 2008 and one game in 2012.
Somewhere along the line, the sports media went all in on a "snap judgment" way of thinking. Instead of vigorously pursuing perspective, they make themselves "prisoners of the moment." One game, even one play, is blown up to larger than life proportions as they seek to build legacies off of moments rather than careers. The NFL, a league where one play can alter a game and one game can define a season, lends itself perfectly to this type of flawed analysis. It's a perfect cocktail where perception is not only greater than reality, it drop kicks reality in the face and takes a Louisville Slugger to its limp, lifeless body.
Nobody stands to gain more or lose more from this way of thinking than the quarterback. Take Tom Brady for example. He sucks beyond belief in the AFC Championship game, yet the narrative is that Brady "did just enough to win." Did he really, or was it that the Ravens did just enough to lose? Reality matters little in this conversation, as the Patriots narrow win was enough for Tom Terrific to reclaim his status as "clutch." Now, fast forward to last Sunday, where it was the Pats that gave the game away. Brady plays a pretty good game, definitely FAR better than the game before, yet the narrative this time around centers on Brady's big game failures and his now downgraded legacy. Really? He's less of a player because he lost the Super Bowl? He gets no credit for reaching his fifth,
*FIFTH*
, Super Bowl? None? Tough life, being a QB.
Oddly enough, it was none other than Colin Cowherd who provided some much needed perspective this week. In pointing out the paper thin line between success and failure in the NFL, Cowherd perfectly illustrated how moronic it is to base entire legacies on "big games" and championship rings, using Kurt Warner as his example. Warner seems a likely HOF candidate, though many will question whether he truly belongs in that class. In arguing for Warner, the first thing that invariably comes up is that he's a champion. OK, I'll give you that. He's won a Super Bowl. But, what if......
.....what if Kevin Dyson had gotten one yard? Just one more yard? Three extra feet, and Kurt Warner is 0-3 in Super Bowls. Does that make him any less of a QB? Should that downgrade him from borderline HOF status? Then again, what if.....
.....what if Santonio Holmes had been just a few inches the wrong way? Then Warner is 2-1 in Super Bowls! Heck, the Super Bowl against New England was so close that you can easily say Warner isn't far off from being 3-0 in Super Bowls! Either way, we're talking about one foot, 3 points, and a few inches that have gone into determining a legacy.
While the Santonio Holmes catch is fresh in your mind, consider what we'd be saying about Ben Roethlisberger if that play doesn't happen, or if the refs hadn't handed them the Super Bowl against the Seahawks. What would Big Ben's legacy be if he was 0-3 in Super Bowls? I'm guessing it wouldn't be what it is now.
In no instance is the thin line between success and failure more evident than in the two Super Bowl matchups between the Giants and Patriots, and it's hardly fair to label Brady a choker and Manning "clutch" based on the results. In fact, we now overlook the fact that...
...Eli Manning threw a game sealing INT late in the 4th...only to the have the ball sail right through Asante Samuel's hands. We also overlook the fact that Eli had the games only turnover, and fumbled two other times. Sounds reaaaaaaal clutch! Of course, I'd be remiss if I didn't also mention...
......a crappy fifth WR catching a ball on top of his freaking helmet. Can't believe Tom Brady let him do that!
So, what if Asante Samuel hauls in that INT? Suddenly, Brady is 4-0 in Super Bowls, and is the QB of the league's first 19-0 team. And then, what if...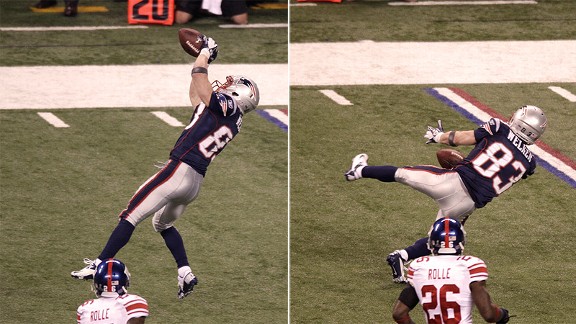 .....what if Wes Welker doesn't drop the ball? Look, you can talk about it not being the greatest pass in the world, but you can clearly see that this ball is in his hands. As Welker himself said, he catches that 100 out of 100 times. Just, not this time. If he hauls this one in, the Pats are almost assuredly standing tall with their fifth Super Bowl, and Tom Brady is showering in the praises of being the greatest QB the game has ever seen.
We can play this game all day long. What if Hernandez doesn't drop the ball, what if Gronkowski is healthy, what if Manningham doesn't make that catch...the list is endless! The point is that we all need to take it easy on defining legacies. Let's step back, gain some perspective, and accurately judge how things really are.
The ironic thing about it all is that Tom Brady is an infinitely better quarterback now than he was back when New England won their Super Bowls. That Tom Brady was good, not great. This Tom Brady, the one who has "lost" two Super Bowls, is an all time great. And after losing on Sunday, Brady is no less a player than he was the day before. Likewise, Eli Manning is no better than he was before Sunday. They're exactly the same, and one game does NOT change that. It was, after all, just one game in the whole scheme of things. Making any more out of it is an overreaction.
Yet, that's what the sports media has trained us to do. As a result, we now fondly remember John Elway as a winner, because he finished his career by winning two straight. Never mind that he lost three before that, or that he wasn't half the player he was back in his "choking" days. Irrelevant details!
We think of Elway as a winner, we call Eli Manning the best big game QB in the game, and we've labeled Tom Brady and Peyton Manning as playoff chokers. It's a tough business, being a QB. Receiver drops the ball, you're a choker. Defense can't get a stop, you're a choker. I'll pass...sign me up for special teams!
*Note to Patriots fans* -- I like the Pats, I like Tom Brady, and I cheered for them to crush the Giants both times. Don't mistake me as a hater. Thing is, you kinda deserve the irrational Brady judgment. You touted Brady as the G.O.A.T. based off of rings, and rings alone. So now, you aren't allowed to say anything, even though Brady has a much better argument for G.O.A.T. than he ever did before. Sorry guys, you dug yourself in deep on this one.