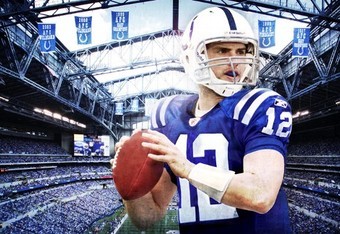 Perhaps the Colts best attribute is being really bad at exactly the right time...
On Thursday, April 26, the Indianapolis Colts will make Andrew Luck the #1 overall pick in the 2012 NFL draft. In doing so, they will have completed one of the most interesting cycles the sports world has to offer us; replacing a legend.
That the Colts will select Luck is not really up for debate. Shy of literal death or an unfortunate farming accident that claims Luck's right arm, there is nothing that would sway them from this course. In fact, I would probably argue that they would select him even if he were to tear both ACL's this very afternoon. That's how good he is, and that's how highly the Colts view him.
Now, before I continue, let me first temper the Andrew Luck hype machine a bit. By the way people talk about him, you'd think he was already in the HOF, but there are two key things to keep in mind. First, "can't miss" prospects miss all the time. If you think Andrew Luck is exempt from that, then you are sorely mistaken. Not that it wouldn't be completely shocking if he did bust, but it wouldn't be the strangest thing to have ever happened. Just saying. Second, Andrew Luck is almost certainly NOT going to replace Peyton Manning. Sure, he'll wear the same uniform and play in the same stadium, but he won't be Peyton Manning. By my estimation, Manning is the greatest QB of all time…so yeah, Luck has a lot of work to do to match that.
That having been said, Luck could, and probably should, end up as a HOF QB. That's right, I'm going there. A player with his skill set is extremely rare, and I see very little chance that he ends up as anything less than an all-time great.
Ironic, isn't it, that the Colts would end up with a guy named Luck. They wear a horseshoe on their helmet, for goodness sakes! I guess Jim Irsay must have been channeling that thing hardcore, because, in my estimation, the fact that the Colts have the chance to follow up Manning with Luck makes them one of the luckiest franchises of all time.
Think about it for a second. How many times has a franchise fallen off a cliff after losing their franchise player? Pretty much constantly, right? And yet the Colts, fresh off 13 full seasons of the greatest of all time, are going straight into Andrew Luck, the best prospect since…Peyton Manning. Even if Luck only ends up being your run of the mill HOF'er, that's a pretty good deal!
For some historical perspective, I went back and looked at how other teams fared in replacing their HOF QB's. Over the last 30 years, 10 teams have had to accomplish this task. Here's how they did:
Terry Bradshaw – Retired after 1983 season
With Bradshaw: 107-51 record, 4 Super Bowls
Bradshaw was replaced in 1984 by former first round pick, and heir apparent, Mark Malone. Though Malone would end up starting 43 games in four seasons, his tenure was anything but successful. He would lose his starting job multiple times, only to be replaced by someone worse than him. That cycle repeated itself three times before the Steelers finally cut ties with him. Overall, in the five seasons following Bradshaw, the Steelers would go just 35-44, and would feature the likes of Malone (43 starts), David Woodley (13 starts), Scott Campbell (2 starts). Bubby Brister (15 starts), Steve Bono (3 starts), and Todd Blackledge (3 starts). And even though the team would find some success by the early '90's, they wouldn't find their "next Bradshaw" until 2004.
Recovery Time: 8 years
Dan Fouts – Retired after 1987 season
With Fouts: 86-84-1 record, four playoff appearances
Ironically, the Chargers would also turn to Mark Malone after the retirement of their HOF QB. And yep, you guessed it, it worked out pretty much the same way. Now, to be fair, the Dan Fouts era wasn't nearly as successful as that of many other HOF QB's. However, the Chargers were an absolute wreck in the years after, going a miserable 22-42 in the following four seasons. In that time, they would start Malone (8 starts), Babe Laufenberg (6 starts), Mark Vlasic (3 starts), Jim McMahon (11 starts), Billy Joe Tolliver (19 starts), and John Friesz (17). And even the "glorious" Stan Humphries era brought just three winning seasons in six years before the franchise would once again bottom out.
Recovery Time: 16 years, with a few false rays of hope sprinkled in between
Joe Montana – Traded to Chiefs after 1992 season
With Montana: 100-39, 4 Super Bowls
This particular situation was very unique, and it really has to be discarded from the conversation. Thanks to the Buccaneers incompetence (giving up on Steve Young after only 16 starts?), and the lack of true free agency, San Francisco was able to trade for a HOF replacement in 1987, and keep him in reserve all the way through 1991. In that year, Montana would only play one game due to injury, and Young would cement himself as the 49ers QB. For many different reasons, this situation is not possible in today's NFL. I will add, however, that even though the 49ers won double digit games in each of Young's eight full seasons, they were never as dominant as they were under Montana.
Recovery Time: None
Warren Moon – Traded to Vikings after 1993 season
With Moon: 70-69, 6 playoff appearances
Moon's overall record with Houston is deceivingly bad, since the franchise was really, REALLY awful when he got there. And though he had little playoff success, Moon's ability to lead them to 6 playoff appearances should not go unnoticed. In his final season, 1993, the Oilers would have their best season, finishing 12-4 and winning the AFC Central. The following year, the first without Moon, that same team would go 2-14. Slight parallel to Indy's situation, no? The parallels don't stop there. Houston would draft their QB of the Future, Steve McNair, third overall in that next draft, hastening the rebuilding process. Assuming Luck is as NFL-ready as he seems, the parallels end there. McNair would sit two years behind Chris Chandler, and the team wouldn't break eight wins until McNair's fifth season.
Recovery Time: 5 years
Jim Kelly – Retired after the 1996 season
With Kelly: 101-59, 4 Super Bowl appearances
This particular case might well be the prototype for how bad things can get after you lose a HOF QB. Thanks to the surprising emergence of Doug Flutie, the Bills remained relevant for a few years, but even then they were never contenders, and only had two winning seasons. Mostly, they've just gone through an endless cycle of bad QB's, sometimes investing high picks (J.P. Losman), sometimes giving up a lot in a trade (Drew Bledsoe), and sometimes picking them off the scrap heap (Ryan Fitzpatrick). If you're ready, here's the list of guys they've tried since Kelly:
Todd Collins (13 starts), Alex Van Pelt (11 starts), Doug Flutie (30 starts), Rob Johnson (26 starts), Drew Bledsoe (48 starts), Kelly Holcomb (8 starts), J.P. Losman (33 starts), Trent Edwards (32 starts), Brian Brohm (2 starts), and Ryan Fitzpatrick (37 starts). All that adds up to a 103-137 record in the last 15 years, including an ongoing stretch of seven straight losing seasons…and still no QB.
Recovery Time: 15 years and counting
John Elway – Retired after the 1998 season
With Elway: 148-82-1, 2 Super Bowls, 5 Super Bowl appearances
The Broncos didn't necessarily fall off the map like the Bills, mostly because their replacement QB's weren't completely awful, but winning just 2 playoff games in the 13 years since Elway is most definitely a steep drop-off. What has to be frustrating for Denver is that each QB since Elway has, at some point, looked like "the guy." Brian Griese (51 starts), Jake Plummer (54 starts), Jay Cutler (37 starts), Kyle Orton (33 starts), and Tim Tebow (14 starts) all gave the fans hope at one point or another, but all are grossly inadequate when compared to Elway, or any other QB of his ilk. That inability to find a franchise QB finally did the franchise in, as they've failed to have a winning season since 2006. I guess we'll see if old, injured Peyton Manning is capable of filling that slot.
Recovery Time: 13 years and counting, with a bit of random Jake Plummer success sprinkled in
Steve Young – Retired after the 1999 season
With Young: 91-33, one Super Bowl
You may remember the post-Young era being prosperous, but you'd be remembering wrong. The team went 4-12 in 1999 (Young only played 3 games), and 6-10 the following year. And after a two season respite in which Jeff Garcia blew up, the 49ers went straight down the tubes. Even in those two seasons, the 'Niners won just one playoff game (a miracle win at that), so it's not like they were lighting the world on fire or anything. Overall, the 49ers went 78-114 from 1999 through 2010, running through a group of QB's that consisted of Jeff Garcia (71 starts), Tim Rattay (16 starts), Ken Dorsey (10 starts), Alex Smith (50 starts), Cody Pickett (2 starts), Trent Dilfer (6 starts), Shaun Hill (10 starts), Chris Weinke (1 start), J.T. O'Sullivan (8 starts), and Troy Smith (6 starts). Even now, it's fair to wonder whether they've fully recovered or if 2011 was just a bright spot on an otherwise dark path.
Recovery Time: 12 season (possibly more), with a brief Jeff Garcia oasis
Dan Marino – Retired after the 1999 season
With Marino: 147-93, 10 playoff appearances, one Super Bowl appearance
The Dolphins stand at 92-100 since Marino's departure…exactly where you DON'T want to stand. They've maintained some odd level of mediocrity while going with a string of horrible QB's, and that mediocrity has prevented them from ever recovering. The worst part is that they've tried so hard to land the "next Marino," but have been so horribly unsuccessful. They've dealt high draft picks for A.J. Feeley and Daunte Culpepper, while investing other high picks in Chad Henne and John Beck. All to no avail, as the 'Fins have made the playoffs exactly once in the last 10 years. Here's the list of QB's:
Jay Fiedler (52 starts), Damon Huard (1 start), Ray Lucas (6 starts), Brian Griese (5 starts), A.J. Feeley (8 starts), Sage Rosenfels (2 starts), Gus Frerotte (15 starts), Daunte Culpepper (4 starts), Joey Harrington (11 starts), Cleo Lemon (8 starts), Trent Green (5 starts), John Beck (4 starts), Chad Pennington (20 starts), Chad Henne (31 starts), Tyler Thigpen (1 start), and Matt Moore (12 starts). When you find yourself looking back fondly on Chad Pennington, you know you have problems.
This, in my mind, is the worst case scenario for Indy. If Luck is simply solid, not great, then the Colts could find themselves on a never ending path of mediocrity.
Recovery Time: 12 seasons and counting
Troy Aikman – Retired after the 2000 season
With Aikman: 94-71, 3 Super Bowls
Let me settle a little something before we get into the post-Aikman era. There is this idea that Aikman is overrated due to the team he played on. That he really wasn't even that great of a QB. Here's a breakdown of his season-by-season DVOA's, starting in 1992.
1992 – 20.6% (3rd)
1993 – 28.2% (2nd)
1994 – 27.0% (5th)
1995 – 37.5% (2nd)
1996 – 12.5% (8th)
1997 – 0.4% (19th)
1998 – 25.1% (8th)
No, he's not the greatest QB of all time, but in his prime, he was consistently one of the best in an era that included seven other HOF QB's. If not for a stream of concussions, Aikman's prime would have lasted long enough to prove that out in pure statistics. So yeah, losing Aikman was HUUUUUGE!
And how would the Cowboys replace him? With Quincy Carter, and pretty much anyone else who was willing to walk in off the street and give it a go. From the end of 1999, Aikman's last somewhat healthy season, to the middle of 2006, when Tony Romo took over, Dallas was just plain miserable. They cycled through brain dead Aikman (11 starts), Randall Cunningham (3 starts), Anthony Wright (5 starts), Quincy Carter (31 starts), Ryan Leaf (3 starts), Clint Stoerner (2 starts), Chad Hutchinson (9 starts), Vinny Testaverde (15 starts), Drew Henson (1 start), and Drew Bledsoe (22 starts). That's 10 QB's in just 6.5 years, amounting to a 43-59 record. Even with Romo, who is admittedly a really good QB, the Cowboys have just one playoff win.
Brett Favre – Traded to the Jets after the 2007 season
With Favre: 160-93, one Super Bowl, one Super Bowl appearance
Speaking of lucky, the Packers are extremely lucky that Aaron Rodgers fell to them in the 2005 draft. If just one team in the 23 picks prior to them had pulled the trigger, then Green Bay would almost certainly be in the middle of the same type of mess that has plagued the Bills and Dolphins.
But luck, as Green Bay can attest to, is a huge part of the NFL. That's not meant to put down a team or a personnel guy; it's just the way it is. Take the Colts, for example. What are the odds of landing the #1 overall pick in both the Peyton Manning draft AND the Andrew Luck draft? Of course, few think about how different things could have turned out, even with the Colts having the top pick. What if Peyton Manning had declared after his junior year, as he was expected to do? The Rams would have drafted him #1 overall in 1997, and Manning, not Kurt Warner, would have been the face of "The Greatest Show on Turf."That would, of course, left the Colts with Ryan Leaf in '98. That means no winning, no tradition, no Super Bowls, no new stadium, no nothing. And what if Luck had declared last year, as he was widely expected to do? That would leave the Colts with a few more years of Manning, and the prospect of extremely dark days afterwards.
What my list shows is that it's not impossible to rebuild after losing a franchise QB, but that it's stinkin' hard, and it requires an awful lot of good luck. Apparently the Colts have that in bunches. Whereas most teams took a decade or more to become relevant again – and some not at all – the Colts got Andrew Luck, and with it a great opportunity to continue winning despite losing a HOF QB. That just doesn't happen, people. So while I understand that Colts fans are bummed at losing Peyton, they can at least be happy they won't have to see a string of Ken Dorseys or Alex Van Pelts in their future.