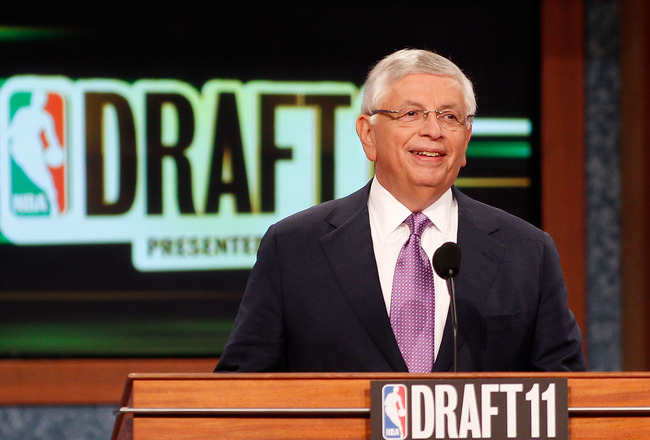 Stern getting booed at the podium...easily one of the most entertaining moments in sports.
The NBA Draft is Thursday night, which means…
MOCK DRAFT TIME!!!
Look, I won't lie; doing NBA mock drafts is probably my favorite thing in the entire world. It's a time for speculation, guessing, and rejecting conventional wisdom…you know, the things I excel at. The best part is that come Thursday night, we'll all be wrong and nobody will have to feel bad about themselves. Well, except for the Charlotte Bobcats who are going to draft the fourth or fifth best player with the second pick. Other than that…
Before we start, let me give you a fair warning. This mock draft will NOT look like other mock drafts. If you want to read a cookie cutter mock draft based on Chad Ford's mock draft, then you should probably just go and actually read Chad Ford's mock draft. Instead, as with any Boris Diaw Time mock draft, I will be picking based on what I would do if I were the owner/GM of the team as opposed to what I think will happen in the actual draft. Again, this is not in any way a predictive mock draft. Also, if I say 'mock draft' one more time, I'm going to punch myself in the face.
Let's move on to the … (sound of me punching myself in the face).
#1 New Orleans Hornets – PF Anthony Davis, Kentucky
Wow. What a shock.
Look, there isn't much to say about Anthony Davis that hasn't already been said, so let me just say this to any Hornets fans who may be reading – congratulations. And I don't just mean that in the "hey, you just landed the most valuable prospect since Lebron James" type of way. I watched every single second that Davis played in a UK uniform last year. I saw every single block, every giant rebound, every alley-oop throwdown. In just one season, he became my favorite UK player of all time. The way he plays defense, the effort he puts forth, the leadership and unselfishness he exudes…honestly, it was just a privilege to have him, even if it was only for a season. It's just fun to watch him play basketball. So congratulations, Hornets fans, you got a good one.
(Also, congratulations on screwing over the Wizards. More on this later.)
#2 Charlotte Bobcats – SF Michael Kidd-Gilchrist, Kentucky
Chad Ford reports that Charlotte is poised to take Thomas Robinson over MKG, and that makes total sense to me. Because anytime you can take an undersized PF with no away-from-the-basket skills over a versatile future All-Star, you gotta do it!
Here's the thing, when you're a 7 win team, you need impact players. The Bobcats have an opportunity to select one in Michael Kidd-Gilchrist, and they might as well close their doors if they pass this up. And yes, MKG is most definitely an impact player. Somehow we got to this point where all we can talk about is his poor shooting, and we've totally ignored every other part of his game. The fact is that Gilchrist brings three elite skills to the table (rebounding, defense, finishing at the basket). And that doesn't even count his off-the-charts intangibles! There isn't a player alive who competes harder, works harder, or wants to win more than Michael Kidd-Gilchrist. You can bet he'll work his tail off until that jumper is looking good.
So there, that's FOUR elite skills he brings to the table…and he's one of the youngest players in this draft! Name me another prospect, other than Anthony Davis, who compares. You can't. If Charlotte had any sense, they'd covet a player like MKG, who can help change the culture of the perennially awful organization…but of course, we all know Charlotte doesn't have any sense.

#3 Washington Wizards – SG Bradley Beal, Florida
So, here's my favorite draft report of the season: Washington is likely not interested in Michael Kidd-Gilchrist after trading for Trevor Ariza. WHAT?!?!? So, essentially, they're saying, "no, we have Trevor Ariza now…we're good." Pretty sure nobody has ever said that before. Leave it to Ernie Grunfeld, the guy who voluntarily traded the most valuable expiring contract in the NBA (and a second round pick!) for $42M worth of Emeka Okafor and Trevor Ariza, to be the first.
Leaving aside the trade shenanigans, Beal absolutely has to be the pick here if MKG is gone. Washington was plagued by poor perimeter play last season, ranking third to last in three point percentage. Much of those struggles can be traced directly to the SG position, where Jordan Crawford shot an abysmal 29% on 273 (!!!) attempts. Needless to say, Beal's sweet shooting stroke and scoring efficiency would be more than welcome.
#4 Cleveland Cavaliers – SF/SG Harrison Barnes, North Carolina
I'd be surprised if Barnes developed into a star, but I'd also be surprised if he was a bust. Basically, he is what he is; a big wing who knocks down shots, grabs rebounds, defends well, but can't get his own shot. And while his elite athleticism does leave open the possibility of being more, he looks a lot like a Luol Deng type of player to me. Honestly, that would be a great return for the #4 overall pick, as Cleveland badly needs a wing scorer to complement Kyrie Irving. Preferably one who isn't named Anthony Parker.
Of course, if they can pull off the rumored trade-up to #2 and land Bradley Beal…
#5 Sacramento Kings – PF/SF Perry Jones III, Baylor
It's not a Boris Diaw Time mock draft until I go way off board, and that's exactly what I'm doing here. Thomas Robinson is a consensus top five pick, and is often viewed as a "perfect fit" for the Kings. Why, I'm not sure. For all his positives, Robinson is always going to be an undersized player that doesn't have a natural feel on offense. Basically, he's Jason Thompson…who, coincidentally, the Kings already have. It just doesn't make sense to use the #5 overall pick on a low-ceiling player like Robinson when the team is so far from contention.
Jones, on the other hand, doesn't lack for potential. Of course, he also doesn't lack for questions, which is why he's currently free falling out of the lottery. To me, that's more an indictment on the NBA's faulty logic than on Perry Jones III. Simply put, a player that talented should NEVER fall out of the lottery just because they didn't dominate at the ripe old age of 20. Too bad that's reality, because Sacramento would be a great landing spot for him. With openings at both SF and PF, Jones would have plenty of room to figure out who he is as a basketball player and grow into his role. And with DeMarcus Cousins already around to bang down low, Jones would be able to operate away from the basket where he feels more comfortable.
#6 Portland Trail Blazers – SG/PG Dion Waiters, Syracuse
If it were a worse team picking, I'd go for the homerun pick in Andre Drummond. But with Portland in a "retooling" stage as opposed to "rebuilding," I'm going with Waiters. That's not to say Waiters is devoid of upside (he has plenty), he's just more prepared to make an impact right away. Instead of hitting a homerun, think of it as trying to leg out a triple. (Though, it must be noted, that there are some in the NBA who think he's the second best prospect in the draft…one even compared him to Dwyane Wade.)
I've been a huge fan of Waiters since his freshman year at Syracuse, though I never expected he would get to this high in the draft. However, the development of PG skills to go along with his prolific scoring abilities has pushed him to a new level. That's a nice contrast to Portland's starter from last year, Ray Felton, whose abilities were pretty much limited to eating and committing turnovers.
#7 Golden State Warriors – C Andre Drummond, Connecticut
I'd feel horrible about this pick if I were Golden State, but what are you gonna do? Talent-wise, Drummond is easily the best player left on the board. Thomas Robinson, again, is too low-ceiling to take over Drummond, and other guys like Terrence Jones, Terrence Ross, Jeremy Lamb, etc. are too big of reaches at this point. So Drummond it is. Of course, if he can figure things out, then this very well could be the pick of the draft. But if he can't find some gasoline for his motor, then we'll never hear from him again after this draft. He's got Kwame Brown written all over him. Still, it's a pick the Warriors would have to make were the draft to shake out this way. Besides, center will be a huge need once Andrew Bogut goes down 17 games into the season.
#8 Toronto Raptors – PF/SF Royce White, Iowa St.
Ignoring everything but pure basketball ability, I think Royce White is the fourth best player in this draft, and even that might be selling him short. His competitiveness, motor, and all around skill set evoke a lot of Scottie Pippen memories…or a Boris Diaw who liked basketball more than the buffet. Unfortunately, you can't ignore everything else, and that's why I didn't take him fourth. White seems like a guy who's working hard to overcome his issues, but things like "fear of flying" and "anxiety disorder" are major red flags in a league that requires constant travel and comes with enormous pressure. Still, I'm shocked that nobody will take a chance on him until the 20's. But since I'm the GM in my own mock draft, I'm making the smart choice and taking him for Toronto. White is the perfect player for them, as he would immediately be their best playmaker and resident "tough guy." With last year's lottery pick, Jonas Valuncianas, arriving this season, Toronto could have one of the best young frontcourts in the league.
(By the way, I really hope the rumors of White being promised by the Celtics at #21 are true. If we could land Royce White that late…OH MAN THAT WOULD BE AWESOME! Talk about a building block for the future!)
#9 Detroit Pistons – SG Jeremy Lamb, Connecticut
Ideally, the Pistons would want a rim protecting center, but it would be crazy to take either stiff Tyler Zeller or soft (and bad) Meyers Leonard over Lamb or Terrence Ross. After all, Detroit needs to upgrade at SG as well. To that end, Jeremy Lamb seems like the right fit. His length and defensive prowess fit in with what the Pistons traditionally look for, but it's his ability to move without the ball that makes me think he'll be a valuable player. It's a lost art in today's game even though it's perhaps the most important thing a SG can do. You can bet it wouldn't be lost on a sweet passing big man like Greg Monroe.
#10 New Orleans Hornets – PG Kendall Marshall, North Carolina
Like with Michael Kidd-Gilchrist, everyone seems to be so focused on what Kendall Marshall is not that they totally overlook what he is. For the last two seasons, Marshall has been hands down the best PG in college basketball. Before he was inserted into the starting lineup midway through his freshman year, UNC wasn't even in the national rankings. Afterwards, they were a few baskets away from the Final Four. And if that doesn't stand out to you, then please see UNC's complete offensive collapse after Marshall was knocked out of the tournament. He simply makes everyone around him better. That's something that no other guard in this draft can say, and it's something that a young, rebuilding team like New Orleans can't afford to pass up. Paired with Anthony Davis, Marshall's defensive limitations will be minimized while his otherworldly passing skills will be maximized.
#11 Portland Trail Blazers – PF Thomas Robinson, Kansas
Fine, Thomas Robinson. You win. I'll draft you.
First and foremost, let me inform you that I deeply despise Thomas Robinson. I think he's overrated, I don't like the way he plays, and I think he got away with about a million travels last season. And if that wasn't enough, he decided that he, not Anthony Davis, was worthy of being the top pick. Right, was that before or after Davis blocked you 10 times in the national championship game, Tommy? So yeah, I hate him. Also, as I said earlier, I pretty much think he's the same player as Jason Thompson.
But hey, I can't let him fall forever, can I? Even though Portland isn't an ideal fit, he definitely holds more value than the remaining prospects. And with J.J. Hickson on the way out, Portland needs another big off the bench. If I'm right about Robinson, that'll be his long term role anyways. And if he's better than I think, he and Aldridge will pair nicely when Portland wants to play small.
#12 Milwaukee Bucks – PF Terrence Jones, Kentucky
Let me be totally forthcoming with you; I have no idea what Terrence Jones is going to do in the NBA. None. I've watched every single college game he's played in, and I'm totally clueless on him. At times, he looked like a young Karl Malone. Other times, he looked like an old Karl Malone whose leg had just been run over by his semi. So there's that. But despite his red flags (very real red flags, at that), he's far too talented to fall out of the lottery. The Bogut trade left a huge rebounding/rim protecting/toughness void up front, and Jones can provide those things at the PF position. Of course, so can Tyler Zeller or some of their other targets, but they don't come with the same upside that Terrence Jones comes with. Risky, yes, but mediocre teams like the Bucks need to take those types of risks if they ever hope to contend.
#13 Phoenix Suns – SG Terrence Ross, Washington
The Suns' perimeter strength has eroded over the years, and its past time they restocked through the draft rather than picking up cheap (crappy) free agents like Shannon Brown. Thankfully for them, this class is loaded with high upside SG's. Ross may not have the polish that Beal, Barnes, or Lamb have, but the physical gifts are there. In fact, there are some who think he's the best long range shooter in the draft…Beal included. Even if that's not the case – and it's not – he's still a lights out guy. And he's 6'7". And he's a ridiculous athlete. Who knows, if the Suns can get a guy like Ross and use their free agent money on a Ryan Anderson, maybe they can convince Nash to come back. Even if not, Ross is a nice building block for the future, with the potential to be a star.
#14 Houston Rockets – SF Quincy Miller, Baylor
(Note: It looks like the Rockets are going to be doing even more wheeling and dealing, with the possible aim of landing Dwight Howard. By the time this posts, they might not even own this pick. Please, forgive me. Or not…I don't really care.)
This is an all upside pick here. Houston has had this pick, or one close to it, for pretty much every season since the beginning of time. While they've landed a few decent players, they haven't really come close to landing the franchise changer they've coveted for years. Not that Miller is going to be that guy, but he has a much better shot than last year's #14 pick, Marcus Morris. My deal with Miller is that if he was going to be a top ten pick next year, why is he falling close to the second round this year? Isn't potential a big factor in the draft? If so, then Miller is a good gamble for Houston. Remember, he played last season at about 75% due to the after effects of major knee surgery. He's only going to get better, and given his combination of size (6'10") and skills, he's one of the few guys with a chance to become a true superstar.
#15 Philadelphia 76ers – SG/PG Austin Rivers, Duke
Don't get me wrong, I hate Austin Rivers. Mostly I hate him because he just looks like a tool, but his game makes me nervous as well. He's selfish, he freezes out teammates, and he has no concept of what a good shot is. Weird that Doc's son would have those issues, but there they are. However, the pure offensive talent is undeniable, and I sorta agree that his game translates better to the NBA. Coincidentally, the 76ers will likely have an opening for their "combo guard whose only job is to jack up as many crazy shots as possible" spot since Lou Williams is up for free agency. Even if Williams wasn't leaving, Philly needs some scoring punch in the backcourt, and scoring is what Rivers does.
#16 Houston Rockets – PF John Henson, North Carolina
After taking a risk at #14, I'm going to play it a bit safer this time. We know Henson can rebound, and we know Henson can block shots. Even if he's unable to put on much weight or improve his offensive feel, at least he can contribute in those key areas. And since Houston has a gaggle of undersized guys at PF (Scola, Patterson, Morris), they could really use a long, athletic rim protector like Henson.
#17 Dallas Mavericks – C Tyler Zeller, North Carolina
I'm not totally convinced Zeller is a long term NBA starter, but he's one of the few big guys capable of providing immediate help. With Dallas in "win-now" mode, that makes him a good fit. Also making him a good fit is the fact that Brendan Haywood is currently the starting center. But even if they were to pick up a center in the offseason, having a quality 7-footer off the bench is a luxury few teams will have, and it could give them an edge in the Western Conference.
#18 Houston Rockets – PG Marquis Teague, Kentucky
I'll try not to rant too long here, but the way people write about Teague is really getting on my nerves. These "experts" consistently talk about how wildly inconsistent he was and how skittish Kentucky fans were of him. This just shows how few Kentucky games they watched, because nothing could be farther from the truth. Teague's SHOT was inconsistent, but his play was outstanding all throughout SEC play and beyond. I worried about his play far less than Terrence Jones', and even less than a guy like Darius Miller. By the end of the year, Teague was playing efficient ball and was our go-to guy at the end of the shot clock. So no, he isn't nearly as big a risk as people think.
I'll be honest with you; I had a tough time choosing between Marshall and Teague at #10. Teague's upside is enormous and he would be another great pick for Houston if they hold onto this pick. Either Dragic or Lowry will be gone this offseason, leaving a great spot for Teague to develop as the PG of the future.
#19 Orlando Magic – PG/SG Damian Lillard, Weber State
Orlando would do back-flips if Lillard fell to them in the real draft. There's a 0% chance of that happening Thursday night, but anything is possible in the BDT mock draft. It's not that I hate Lillard or anything; it's that I'm not putting as much stock in his college stats as everyone else. I mean, what am I supposed to do when his best competition last season was against Cal? They weren't even good! But that doesn't mean he's a fluke. Lillard offensive prowess is no joke, and his three point stroke is absolute money. Basically, he's kinda like Jameer Nelson, if Nelson were 5 inches taller. And could shoot. And could finish at the basket. And could pass. Oh wait, I meant to say Lillard would be a great replacement for crappy Jameer Nelson! My bad.
#20 Denver Nuggets – PF Arnett Moultrie, Mississippi St.
Denver doesn't necessarily need another athletic big, though I guess you can never have too many. I just think Moultrie is an extremely good value at #20. He's another ultra-talented PF who likes to spend too much time on the perimeter, so it'll be up to George Karl to rein him in closer to the paint. Once he's there, though, he can do some damage. Against Kentucky, his length and explosive jumping gave even Anthony Davis some troubles.
#21 Boston Celtics – SG John Jenkins, Vanderbilt
The real reason Boston didn't make the Finals is that they shot just 29% from three in the postseason. Three point shooting used to be the deadliest aspect of the offense, but that simply wasn't the case after Paul Pierce and Ray Allen passed away (just kidding…only Ray Allen died). With Ray Ray leaving in free agency, the Celtics need to find a knockdown shooter to come off the bench behind Avery Bradley. Thankfully, this draft features the best three point shooter since Steph Curry. No, he's not nearly the player Ray Allen used to be, but he certainly can emulate what Ray Allen became the last couple of seasons, not only in his ability to hit shots, but also in his ability to run his defender ragged around screens. Finding a shooter of Jenkins' caliber is not easy, and I sincerely hope they don't pass.
(Of course I hope Boston takes him at #22 since, you know, they're taking future HOF'er Royce White at #21!!!!!!)
#22 Boston Celtics – PF Andrew Nicholson, St. Bonaventure
Seemingly a consensus pick for the Celtics, and for good reason. Boston needs more big bodies (who are not named Ryan Hollins), and Nicholson provides insurance in case Brandon Bass and/or Kevin Garnett are not back next year. He's a big guy, even for his height (7'4" wingspan!!! Jay Bilas!!!), and he knows how to use it.
I also considered Meyers Leonard and Fab Melo. Both players are 7 feet+ and have significantly more upside than Nicholson is supposed to have. However, once you factor in the fact that both Leonard and Melo suck…well, the choice was easy.
#23 Atlanta Hawks – SF Moe Harkless, St. John's
There's no point in the Hawks taking a "win now" player, because there's really no way they can "win now." By the time the season starts, who knows what the roster will look like! Josh Smith might be gone, or Joe Johnson might be gone, or Al Horford might be gone, or any combination of the three. So instead of wasting this pick on Jared Sullinger or someone like that, Atlanta would be wise to take a high risk/high reward player like Harkless.

#24 Cleveland Cavaliers – C Meyers Leonard, Illinois
I know Leonard is going about 12 spots higher in most mock drafts, but how many times have you seen a soft player like Leonard flop in the NBA? It happens every single year! Plus, let's not forget Illinois' epic collapse last season, spurred in some part by Leonard's inability to assert himself. Still, at this point in the draft, I think the reward outweighs the risk. He's got the size and skill to be a top ten center in the league, and Cleveland will have the luxury of bringing him along slowly behind Anderson Varejao. I wouldn't bet on him working out, but it's a worth a flier at #24.
#25 Memphis Grizzlies – SG/PG Doron Lamb, Kentucky
The Grizzlies biggest weakness last season was perimeter shooting, and that's only going to get worse with the loss of O.J. Mayo. Lamb seems like a natural replacement for Mayo. Not only is he the second best shooter in the draft, he can also play both guard spots. I can't say the upside is there, as Lamb is probably not going to ever be more than a sweet shooting role player, but that's exactly what Memphis needs at this point in their development.
Since I'm on the subject, it's worth bringing up how stupid it would be for either John Jenkins or Lamb to fall to the 2nd round. More often than you think, NBA games come down to who gets hot from the outside. Shooters of their caliber are invaluable weapons, and often end up being grossly overpaid because there are so few of them, so it's weird that the league would collectively shrug their shoulders in the draft.
#26 Indiana Pacers – SG Will Barton, Memphis
This pick came down to Barton or Jeff Taylor, with Barton getting the nod because of his ability to create offense. In truth, Barton probably isn't ready to contribute right away, which makes this somewhat of an inconvenient pick. However, I don't think Indiana is close enough to the title to ignore potential and focus on the little "missing pieces." Right now, that missing piece is someone who can score at a high level, and those just aren't going to be found at #26. In a few years though, maybe Barton can be that guy. He has a complete offensive game, but needs to focus on getting stronger and learning the game.

#27 Miami Heat – SF Jeff Taylor, Vanderbilt
Shane Battier can't play forever – at the very least, he can't shoot 70% from three forever. His importance in Miami's title run can't be understated, and they need to find a capable replacement for him. Taylor reminds me a lot of Battier, with his ability to lock down his man and hit spot up jumpers, while also bringing elite athletic ability to the table. He'll never be a star, but he looks like the type of role player Miami needs to be successful.
#28 Oklahoma City Thunder – PF Jared Sullinger, Ohio State
Sullinger's slide stops here with OKC. His back is obviously part of why I didn't take him before, but I honestly wouldn't have taken him in the top 20 regardless. He just doesn't have the length or athleticism that a starting caliber PF should have. However, I do think he fits well as a Carl Landry-like role player who can provide instant offense from the low post. Against fellow backups, Sullinger's strength and low post repertoire will be tough to contend with, and goodness knows OKC can use SOMEBODY who can get easy points inside.

#29 Chicago Bulls – SF Darius Miller, Kentucky
Call it bias if you like, but I think Darius Miller is going to be a solid NBA player. He has excellent size for a SF (6'8"), better than expected athleticism, and an extremely underrated stroke. In fact, I think everything about his game is underrated. Some of that is because of the immense talent he's played with during his career, but some of it is because he's more comfortable as a role player. That's actually a good thing now, because that's exactly what he'll be in the NBA. Chicago could really use a role player like Miller, who can hit open shots, handle the ball a little, and even create off the dribble.
#30 Golden State Warriors – PG Tony Wroten Jr., Washington
Wroten is as raw a player as you'll find, but he possesses a world of talent that could eventually make a whole bunch of teams sad they passed on him. For a rebuilding team like the Warriors, taking a flyer on Wroten makes a ton of sense.