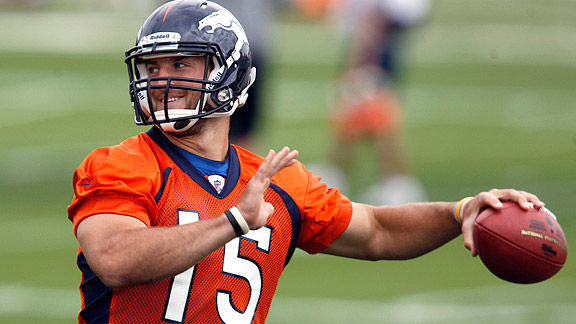 JUST PLAY HIM ALREADY!!!
Apart from a few inconsequential signings and the impending un-retirement of Brett Favre (and Randy Moss), the frenzied NFL off-season is is over and done with. With rosters in place and training camps under way, we now have a slightly clearer picture of what the 2011 NFL season will look like. Of course, no one can actually
know
what will happen during the season, but it sure is fun to speculate!
Prior to last season, I predicted a Cowboys-Patriots Super Bowl.....and that worked out just great, didn't it? Hey, at least the Patriots were really good...the Cowboys, not so much. It's tough to figure out what exactly caused me to make such a horrible prediction, but my best guess is a combination of unbridled hope and profound blindness. Note to self: Never, EVER trust Tony Romo again. EVER! Or Wade Phillips (more on that in the AFC South preview).
So, considering my awful Super Bowl prediction last year, why should you listen to what I have to say
this
year? Well...uh...umm...err...I guess I don't know. You probably shouldn't. In fact, just read through these, and quickly discard them. Like, immediately. OK? Moving on...
AFC West
Last season, Kansas City made a near miraculous recovery from a 4 win 2009 campaign to post 10 wins and capture their first division title since 2003. I guess that's impressive...sort of. Overall, the division was pretty crappy, so I guess I'm not too impressed. The bigger story was the amazing coaching job by Norv Turner, who managed to take a team that ranked first in total offense AND total defense, and miss the playoffs with them. Really Norv, you've done some amazing work in the past, but this is just above and beyond. Well done!
Here's my predictions for 2011:
1. San Diego Chargers: 12-4
Biggest Addition: WR Vincent Jackson - This isn't so much an addition as it is getting a full season from their best offensive weapon. Philip Rivers was incredible last season, no doubt, so a reasonable argument could be made that Vincent Jackson isn't nearly as valuable as he's assumed to be. On the other hand, an even more reasonable argument could be made that the Chargers success in the passing game was nothing short of a miracle. Darren Sproles' versatility out of the backfield was vital to Philip Rivers, especially with the spate of injuries hitting Antonio Gates and Malcolm Floyd. Now that he's gone, getting a true #1 like Vincent Jackson back on the field will be critical.
Biggest Loss: HB Darren Sproles - As I just mentioned, his versatility was big for this team. He gave them exceptional production on third down, in the passing game, and on special teams. Those types of players are extremely tough to replace.
Biggest Question: How does Norv Turner still have a job?
Summary: With Norv, all things are possible...but even I can't fathom the Chargers underachieving as badly as they did last season. As I said before, they ranked first in total offense and total defense, and still missed the playoffs. Not only that, but they lost 4 of their games by 7 points or less. The biggest culprit was a -6 TO margin, but a dodgy special teams coverage unit was also partly to blame. They return a mostly intact team, and I don't see how they finish with less than 11 wins.
2. Kansas City Chiefs: 9-7
Biggest Addition: WR Steve Breaston - I was actually tempted to put Kelly Gregg here, but I think Breaston fills a much bigger need. Kansas City finished 30th in passing offense, and they badly needed a shot in the arm. It's not that Cassell is bad, it's that he's not good enough to carry an offense by himself. Dwayne Bowe single handedly carried the passing game for stretches, but with no other WR exceeding 213 yards, it became difficult for the Chiefs to compete at the highest level. Breaston is a legit threat who should help open up the offense a bit.
Biggest Loss: They didn't really lose anyone of note other than NT Ron Edwards. Of course, they replaced him with Kelly Gregg...who is better...so yeah...uh...they lost Charlie Weis? I guess he could play NT?
Biggest Question: Will they be smart enough to give Jamaal Charles more carries than Thomas Jones? You know, because Charles is infinitely better than Jones.
Summary: I'm really trying, but I can't quite buy into the Chiefs. It's not a good idea to make judgments off one game, but I can't shake the shellacking Baltimore laid on them in the playoffs last year. The Chiefs offense literally couldn't do anything! It was like watching a Division III football team play Alabama. Still, they have a good young defense, and the passing game can only improve with the addition of Breaston. Best of all, they have one of the most dynamic RB's in football. They're too good to be bad, but not good enough to be really good. So, 9 wins sounds right to me.
3. Denver Broncos: 5-11
Biggest Addition: LB Von Miller - Denver added a lot of defensive line help this offseason, but most of them were former first round castoffs. Nothing to get too excited about there. In all honesty, I'm not a big Von Miller fan, but he's big on pass rush potential and for a team with only 23 sacks last season, that certainly could come in handy.
Biggest Loss: The draft pick they could have gotten for Kyle Orton - Let's face it, this team isn't going anywhere. Orton is a nice QB, but he's not resurrecting the franchise the way John Elway did back in the '80's. Say what you will about him, but we really don't know anything about Tim Tebow. He very well might suck, but Denver needs to find that out before next offseason. More importantly, Denver needs every last draft pick it can get.
Biggest Question: Is Tim Tebow the QB of the future? Denver MUST find this out.
Summary: Last season, the Broncos ranked last in both total defense AND scoring defense. That's not good. Bringing in former first round talent like Broderick Bunkley, Derrick Harvey, and Ty Warren is certainly smart, especially for the price they got them, but really, what's the practical difference between ranking 32nd and 28th? In the end, you still suck. The Orton-Tebow debate has became an unwelcome cloud over the team, and management needs to apply a little foresight to the situation. Why they won't give Tebow a chance is beyond me. Worst case scenario...Tebow sucks, you lose a ton of games (again), get a wealth of publicity for several games, get a great draft pick, and have a clear picture of what your franchise needs to do going forward. Best case...Tebow is good, you get tons of publicity all year long, sell a boatload of Tebow jerseys, win a few extra games, and solidify your franchise for the next decade or so.
4. Oakland Raiders: 3-13
Biggest Addition: Uh...Trent Edwards? Does it even matter?
Biggest Loss: Oh, let's see...how about everyone that was any good except for McFadden? Sounds about right.
Biggest Question: Is there any way to get rid of Al Davis?
Summary: I'm not even going to waste time breaking down this team. Forget about their 8 wins from a season ago, because they are going to suck...bad. Al Davis' idiotic management of his teams payroll cost them their best overall player, best interior lineman, and best receiver (who is actually a TE). Add in the impending injury to Jason Campbell and the beginning of the Trent Edwards era and you have magic waiting to happen...dark, evil, pathetic magic.