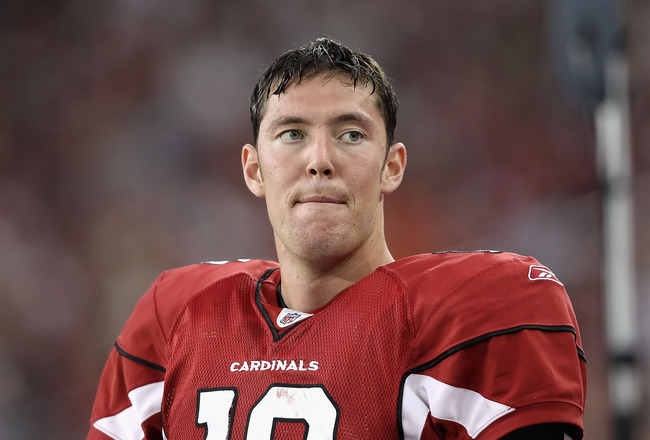 I won't lie, I miss the John Skelton era already.
Here's Part 2 of the NFL Future Power Rankings!
In part 1, we scraped the bottom of the barrel, ranking teams 32-25. In case you didn't see it,
check it out here.
The Good – They've collected a decent amount of young talent on offense. Even if you don't buy into the mysterious breakout of Brandon Lloyd, Demaryius Thomas, Eddie Royal, and Knowshon Moreno are all nice players that have the potential to break out big time. Also, LT Ryan Clady ranks right up there with Jake Long and Joe Thomas as the best young LT's in the game. The biggest factor that puts them ahead of the other teams is the presence of a real, NFL quality QB. Kyle Orton, 29, doesn't get enough credit for what he's made himself into. A team could do much worse than him. Also, I actually kinda like Brady Quinn. Shhh! Don't tell anyone.
The Bad – Beyond Von Miller and Elvis Dumervil, there's not a whole lot on defense, especially the secondary. There's been an awful lot of turmoil surrounding this organization since Mike Shanahan's surprise ouster. With John Elway and John Fox in place, that should calm things down. Still, it definitely set them back a couple years.
Summary – To be totally honest, I don't think Elway is going to work out. There's obviously not a lot to base that on so far, but his handling of the QB situation makes me really question things. They dangled Orton the entire offseason, hyped up Tim Tebow, and then did a complete 180˚. Now, Tebow is the third string. He might not even be on the team by the regular season! Bizarre handling of that situation.
The Good – Adrian Peterson, Kevin Williams, Jared Allen, Pervy Harvin…..the skeleton of the dominating 2009 team is still in place. Peterson, 26, literally is the offense, and it seems like Harvin causes more headaches for opposing defenses every single year (get it?).

While Allen and Williams are getting a bit older, young prospects like Everson Griffen and Brian Robison give hope that the Vikings front four will continue to be dominant.
The Bad – The skeleton of that team is just that, a skeleton. Gone are impact players such as Sidney Rice, Bryant McKinnie, Ray Edwards, and Pat Williams. Soon to be gone are the best days of Kevin Williams, Jared Allen, Antoine Winfield (already gone), and Steve Hutchinson (same). Add to that the persistent rumors of relocation, the messy stadium issue, and the Vikings cursed history; and you have a fairly harsh long term reality.
Summary – It's hard to see them bottoming out over the next few years, but maybe that's what they need. Instead, they'll probably be stuck with 3+ years of 6-8 win seasons. Yuck. The only real hope they have for the long term is Christian Ponder. So tell me Prince, how hopeful are you? Yeah, I didn't think so.
The Good – Why don't we just summarize this as the Chris Johnson section, shall we? What's not to like about a 26 year old former 2000 yard rusher, right? Well, except for the fact that he refuses to play until he gets a mammoth deal (Which he did earlier today...just wait for the hamstring injury!). Other than that…
The Bad – In previous years, this franchise would rank much higher based on its stability and Jeff Fisher's leadership. Over the last year, however, the wheels have started to fall off. Young, talented building blocks like Kenny Britt and Vince Young have had major character issues surface that forced the franchise to split with one (Young) and seriously question the future of the other. All of a sudden, a franchise once seen as a model of consistency is struggling to find a long term solution at QB, has completely overhauled its coaching staff, and faces major questions marks with nearly all of their young stars.
Summary – Unfortunately, I fear this is heading in the Buffalo Bills direction. Like Ralph Wilson, owner Bud Adams was an early pioneer dating back to the old AFL. It's hard to see nowadays, but Adams was a visionary that had a large part in forming the league as it is currently comprised. Now, he's 400 years old and he probably still thinks Warren Moon is his QB. Buffalo Bills, here we come! (Note: Tennessee gets a slight bump over Minnesota because AP will likely break down before Johnson.)
The Good – You mean, other than Tarvaris Jackson?! OK, you're right, that one wasn't even funny. Look, I can sit here and tell you about Russell Okung and Aaron Curry all day long, but the real reason I'm giving them credit is because they play in an easy division, they have arguably the biggest home field advantage in sports, and the Seahawks organization has consistently made good decision for the past decade plus.
The Bad – Mike Holmgren, the guy making the good decisions for the past decade plus, is gone. Uh-oh. Unfortunately for Pete Carroll, he doesn't have the same type of payroll advantages that he did at USC (wait, you've heard that one before?). After the personnel decisions they made this offseason, you have to seriously question the franchise's direction. How does spending big money on Sidney Rice and Zach Miller make any sense when you go with Tarvaris Jackson as your QB? That's like buying a shiny new set of Taylor Made's for a paraplegic. Yeah, they're fun to look at and all, but what good are they when you can't actually use them? (I know I'm probably going to hell after that one…if anyone is offended…well, I don't know what to tell you. I'm not sorry.)
Summary – To recap…I rated a Seattle franchise with almost no viable young talent over several franchises with multiple young playmakers. Because of their home field advantage. Umm. Uhh. In fairness, did you see that playoff win over New Orleans last year? It was crazy! OK, fine…I'd like to use the Chewbacca Defense, if you don't mind.
The Good – For starters, neither Derek Anderson nor John Skelton sit atop the depth chart. That alone is reason for optimism! In their place is Kevin Kolb. Putting aside my personal feelings about Kolb, I acknowledge that he's shown some flashes. His arm strength definitely would have been an issue in Philly, but not so much in sunny Arizona. The combination of Kolb and newly extended Larry Fitzgerald should be perfectly capable of leading Arizona to 7-9 wins every season for the foreseeable future.
The Bad – Wow did they give up a whole lot for Kolb! A 2nd round pick, a Pro Bowl CB, and 12 gazillion dollars for a perfectly average QB? Sounds like a panic move to me. All in all, the Cardinals organization has been pretty inept. If you ask me, they got lucky with Kurt Warner, and it's hard for me to give them much credit for their recent success. They obviously have some talented players, but they seem completely incapable of consistently making smart decisions.
Summary – We've only reached #20 and we already have 3 NFC West teams! Good work guys! Also, Beanie Wells sucks…TAKE THAT OSU FANS!
The Good – They're coming off an appearance in the NFC Championship game, so things can't be all bad, right? Jay Cutler, 28, and Matt Forte, 26, give Chicago the advantage of having young, dynamic players to build the offense around. Cutler, in particular, has shown flashes of greatness. Protecting him has been a major issue, but not many franchises have young QB's of his talent level.
The Bad – The defense is eroding, Cutler is as inconsistent as he is talented, and the offensive line is the worst in the league. Last season, Cutler was sacked a league high 52 times. 52 TIMES! He was sacked on 10.7% of his dropbacks! Call it Bear-hating or whatever you will, but I simply can't buy stock in a team whose best player is a kick returner.
Summary – I'm sure I'll get a homer Bears fan who thinks I'm being too harsh on them, but tell me the last time Chicago put together a consistent run of success…waiting…still waiting…yep, that would be the '80's. I can't take this version of the Bears any more seriously than I did when Rex Grossman was the QB. For all his talents, Cutter is just as likely to throw 30INT's as he is 30TD's! That's not a recipe for consistent, long term success.
The Good – You'd be hard pressed to find a better run organization over the last decade. They've drafted well, they've handled the cap well, and they've expertly avoided the type of dumb pitfalls that prematurely sink ships. Perhaps it won't be this year, but Bill Polian will eventually have to re-build. Re-build, of course, is a swear word to any NFL fan base, but Colts fans can at least take solace in knowing their team is in good hands (and no, not that stupid All State guy!)
The Bad – Looks like that re-building thing might happen sooner rather than later. We don't know yet whether Peyton Manning will miss any games this year, but the mortality of the 35 year old QB is now fully in perspective. The likelihood is that he still has a couple more years of high end play, but that's no longer a sure fire thing. Of course, the decline of a mid to late 30's football player isn't a surprise…the outright refusal of a normally competent front office to invest in a talented young QB, however, is surprising. And no, Curtis Painter is definitely not talented.
Summary – Believe me, I don't feel good about putting the Colts at #18. They've simply been too consistent to predict a long term swoon. Unfortunately for Colts fans, the track record on replacing HOF QB's is pretty bad. Just ask Miami, who's still trying to replace Dan Marino! Even a look beyond Manning sheds some uncertainty on their future. Reggie Wayne, Dallas Clark, Jeff Saturday, Dwight Freeney, and Robert Mathis are all on the wrong side of 30. Sorry Colts fans, I'm not trying to hate on you! What am I supposed to think when all your best players are dinosaurs?
The Good – The G-Men haven't suffered a losing season since 2004, a run of consistency that indicates a well run organization. At the center of this success is a vicious defense that nearly singlehandedly won them a Super Bowl (please, don't say Eli Manning did it!). Put aside the current personnel and their ages, because the Giants always seem to find studs like Justin Tuck and Osi Umenyiora to fill their gaps.
The Bad – After complimenting the front office for putting together a winning core, I'd like to turn around and rip on them for letting the roster stagnate the last few years. Age and salary cap issues have slowly eroded the Giants, forming gaping holes in key areas. Once a strength of this team, the offensive line has been allowed to deteriorate to a Cowboys-like state of age and uselessness. Other key losses, such as Kevin Boss and Steve Smith, will be difficult to replace.
Summary – Don't look now, but Eli Manning is 30 years old this season! Maybe I'm just getting old, but it seems like yesterday that he was waiting in the wings behind Kurt Warner. You might think I'd give New York more credit for having a QB like Manning, but I've always felt Peyton's younger brother was terribly overrated. Still, they have a strong defense and many other good pieces. It's hard to see the Giants sliding into obscurity, but a few years of mediocrity isn't that far-fetched. Of course, if Tom Coughlin could put the bottle down for a few minutes and get Eli to stop throwing so many interceptions, maybe this wouldn't look so bleak.