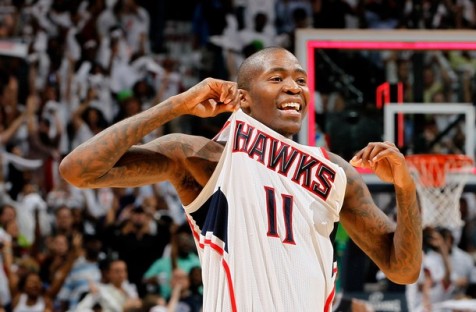 Don't get into the limo, Jamal!!!
Carlos Boozer – 5yrs $80mil
David Lee – 6yrs $80mil
Tyrus Thomas – 5yrs $40mil
Brendan Haywood – 6yrs $55mil
Travis Outlaw – 5yrs $35mil
Amir Johnson – 5yrs $32mil
Al Harrington – 5yrs $34mil
Drew Gooden – 5yrs $32mil
The above is just a partial listing of the insanity that overtook the NBA last summer, when the most high profile group of free agents in league history stirred up a hornet's nest of free-wheeling fever amongst personnel guys. While Lebron James, Dwayne Wade, Dirk Nowitzki, and Amare Stoudemire were all worthy of being considered free agent "prizes," the vast majority of the players signed were much more like the candy bar that gets stuck in the machine. You paid way too much for it, and you get basically nothing in return.
Amazingly enough, after an entire summer's worth of "shaking the vending machine" by the league, we seem destined to head to the same place. Except, this time, NOBODY is getting their candy bar. Whereas Lebron and Wade were the top free agent prizes last year, Nene and Tyson Chandler occupy the top spots this year. And no, I don't have a witty joke about that…it's just plain sad. Even Chris Bosh/Jar-Jar Binks would look like a franchise player in this group! (You knew I had one in me!)
In part I ofmy NBA preview, we looked at how the amnesty clause could/should play out.
Other than today's revelation that the Blazers will not use their amnesty on Brandon Roy (I'm going to erroneously assume they read what I wrote…so humble of me…), there is very little clarity as to what will happen in the coming weeks. Keep in mind, the amnesty clause will have a direct impact on free agency, as teams will be well aware that several valuable pieces could be had at a potentially discounted cost.
Nevertheless, I doubt that will stop GM's from spending their teams into oblivion. Quite frankly, I couldn't be more excited. Never mind that it's this exact thing that nearly cost us the entire NBA season, because I can't get enough Amir Johnson for $34mil! After all, the league has a reputation to uphold, and they better do their darndest to give us the NBA product we know and love. If that means Jamal Crawford gets $60mil to ignore his teammates and shoot 39%, then so be it!
With free agent visits already underway, news of various abhorrent contracts should start to trickle out by the end of the week. On a serious note, it really is shameful that we're going down this path again. An entire summer of the league complaining about not making money should not end in Nene making the max. Of course you're not making money, you dopes!!! Stop giving franchise dollars to third options!!! If the events of this lockout couldn't solve the problem and prevent teams from making the same mistakes over and over again, then I'm not sure how this ever gets solved. All I can say is that everyone better get strapped in for the even-more-vicious 2017 NBA lockout!
On a not so serious note, but still mostly serious, I couldn't be more excited that the practice of annually overpaying 4th and 5th starters is still here! It really is one of my favorite times of the year…
Instead of doing a normal free agent preview where I simply rank the free agents in order of how good they are, I decided to mix it up a bit and do something more appropriate for the NBA product. I'm going to be ranking them in order of how toxic the contract will be a couple years from now. Can you think of anything more well-suited for the NBA? No, I couldn't either. Let's get started…
#1 – Nene
Suitors: Denver, Indiana, New Jersey, Houston
2010-2011 Stats: 14.5 PPG 7.6 RPG 1.0 BPG 61.5%FG 20.4 PER
Analysis: There's no doubt that Nene is a fine basketball player worthy of receiving a good sized contract, but didn't we just go through this with Carlos Boozer? There's a chance Nene receives a max contract, with Houston reportedly being very, very interested. What you should get for a max contract is a consistent 20/10 player who controls the defensive paint and protects the rim. Basically, you should get Pau Gasol for that type of money. Pau Gasol, Nene is not. The high PER shows that Nene is an extremely high efficiency player, but doesn't accurately take into account what Nene is not. What he is NOT is a scorer, as his scoring average from last year is only a shade below his career high average of 14.6PPG. He is also NOT a rebounder, as his 14.4 rebound rate ranked him just 70th among qualified players. Finally, he is NOT a player who defends the rim, as his career blocks per game average of less than one would obviously suggest. He IS, however, a 29 year old with a surgically repaired knee that has historically struggled to stay on the court and has almost assuredly maxed out his ability. All that for $70+mil!
Outcome: Infatuated with his unbelievable PER, Rockets GM Darryl Morey rushed to give Nene a max contract. He and Luis Scola combine to put up the highest combined frontcourt PER in history, but also surrender a single season record for offensive rebounds and points in the paint. In year 2, Nene is struck in the knee by an errant Goran Dragic three, causing it to invert and forcing him to miss the entire season. In response, the Rockets attempt to opt out of the CBA four years early so they can institute another amnesty clause.
#2 – J.J. Barea
Suitors: Dallas, Los Angeles Lakers, New York, Miami, Sacramento
2010-2011 Stats: 9.5 PPG 3.9 APG 43.9%FG
Analysis: You'd think Barea single handedly won the championship with the types of dollars being thrown around in rumors. Look, I'll always love Barea for his heroics in taking down the Heat, but I've gotta be honest about this…he's probably going to be a huge waste of money. Especially if some idiotic team like Miami gives him the full midlevel exception! Yes, Barea was exceptional in the playoffs, but come on! We've seen this before, right? Playoff hero cashes in on his moment of glory and completely tanks the rest of his career? Sound familiar, Jerome James? Besides, it's not like Barea was all that great during the regular season anyways. I'd say there's a much better chance that the 82 game sample was much more telling than the playoffs.
Outcome: Miami amnesties Mike Miller and then pilfers Barea from their playoff foil. Unfortunately, Miami forgets that Barea is just a 35% career three point shooter. With Lebron and Wade dominating the ball, Barea is no longer able to do his patented "dribble in circles for 20 seconds and toss a goofy runner over the tall guy" move, and is instead relegated to standing in the corner with the rest of the team. By the All-Star break, Eddie House replaces Barea in the rotation and Pat Riley gets suspended for planting drugs in Barea's locker. When asked why he would do such a thing, Riley reveals his plot to have Barea deported back to his native land, not realizing that Barea's "native land" of Puerto Rico is actually part of the United States.
#3 – Jamal Crawford
Suitors: Atlanta, Chicago, Indiana, Minnesota, Sacramento, Portland, New Jersey, Los Angeles Lakers
2010-2011 Stats: 14.2 PPG 3.2 APG 1.6 3PG
Analysis: I spent a good bit of time trying to figure out why people think Crawford is good, but I couldn't come up with anything. What's even more confounding is how a career 41% shooter has been allowed to shoot over 13 shots per game for 11 seasons! Yet, the list of suitors is as long as the line for Chris Paul's services. There's no flowery way to say this, so I'll just come out with it. Jamal Crawford is not a good basketball player. He's exactly the type of player you don't want on your team. He is, as I like to call them, the quintessential "I gotta get mine!" guy. For a team like New Jersey or Chicago to consider giving him the full MLE (or more!) is completely ridiculous.
Outcome: New Jersey strikes out in its attempt to acquire Dwight Howard and responds with a barrage of dumb free agent signings. Crawford is given a ridiculous 4 year $30 deal to "take pressure off Deron Williams." Unfortunately, Crawford's definition of "taking pressure off Williams" is to shoot 20 times a game. By the end of the year, Crawford is literally stealing the ball from teammates in an effort to jack up as many shots as humanly possible. In a last ditch effort to retain Williams, Nets owner Mikhail Prokhorov visits the team to meet with all the players individually. After his meeting with Prokhorov, Crawford is ushered into a limousine by a very large man in a very large fur coat. Mysteriously, Crawford is never seen again…
#4 – Tyson Chandler
Suitors: Dallas, Toronto, Indiana, New Jersey, Denver
2010-2011 Stats: 10.1 PPG 9.4 RPG 1.1 BPG
Analysis: The above list of suitors is by no means complete, as nearly every team with any semblance of cap room (and some without) is pursuing Dallas' big man. Much like Barea, Chandler appears set to cash in, thanks in large part to his role in Dallas' championship run. Unlike Barea, Chandler had consistent regular season success to suggest his playoff performance was no aberration. Truthfully, Chandler has been a good player for a long time, but it definitely seemed like he took his game to another level last season. Many credit that to Dwayne Casey's defensive schemes, which is why so many are suggesting a reunion with Casey in Toronto. Still, the potential for Chandler to be awarded a contract with a starting salary in excess of the $12mil he earned last year is absurd. Again, a player receiving a near-max salary should be more than just a defense/rebound specialist. If we're being honest, that's all Chandler really is. I mean, what else would you call a player who's averaged double digits in scoring just twice in his 10 year career? Throw in his lengthy injury history and you have a very risky proposition on your hands.
Outcome: Chandler shuns the opportunity to win in Dallas for the big money and bright 'ice skating rink' lights of Toronto. Having given him a max salary, the Raptors expect Chandler to become their KG and to turn the Andrea Bargnani/Jose Calderon/Linas Kleiza core into a dominant defensive group. Predictably, the Raptors allow over 200 points per game. Within two seasons, Chandler has reconstructive surgery on both knees, an elbow, and his collarbone.
#5 – David West
Suitors: New Orleans, New Jersey, Indiana, Denver
2010-2011 Stats: 18.9 PPG 7.6 RPG
Analysis: West suffered an excruciating looking knee injury last season, and so it's tough to get a gauge on both his market value and his ability to earn whatever contract he receives. Doctors have cleared him to play, but a 31 year old PF coming off a major knee injury is definitely an iffy proposition. Prior to his injury, West was set to cash in as the de facto best free agent in the class. Any number of teams would have been fighting to grossly overpay him! Understandably, the excitement has been tempered. Still, I'd be shocked if one of the four suitors didn't pony up big cash. Given that Marc Gasol is almost assuredly staying in Memphis, the demand for big men seems to far outweigh the supply. One of those teams will be left out in the cold by Nene and Chandler, leaving West as the next logical alternative. At that point, we should see a doozy of a contract that would make even Drew Gooden swoon.
Outcome: Indiana fails to land either Nene or Marc Gasol, the team's top two targets. With all kinds of money to throw around, Larry Bird panics and gives David West a 4 year $50mil contract. West, whose game was already slipping even prior to the injury, comes out of the gate surprisingly strong and helps the Pacers to 3rd in the East standings after the first two months of the season. Tragically, he's hit in the neck by an errant Curtis Painter pass, causing everyone to finally understand what happened to Peyton Manning. Nobody knows why Curtis Painter was throwing a football in Conseco Fieldhouse, just that West had no idea the ball was coming his direction. OK, OK, that's a low blow. What really happens is that West's rebounding and scoring takes a predictably sharp decline due to both injury and age. The Pacers are left on the hook for massive amounts of money, and Pacers fans once again stay away from the arena in droves.
Other Guys Who Will Be Overpayed
Arron Afflalo (RFA) – Afflalo is a really nice glue guy that would be a huge boost for many contenders. My hope is that Miami doesn't get wise and give him the MLE, because he would be exactly what the doctor ordered. Given the rumors though, it seems like Afflalo might command even more than the MLE. Sheer insanity.
Kwame Brown – Charlotte really, really wants him back. Michael Jordan, everybody!
Samuel Dalembert – Bill Simmons suggested that Dalembert might command 4yrs $40mil. That seems really high, but I wouldn't put something like that past the NBA. The rule is, if you're tall, you get paid.
Glen Davis – If New Jersey can't land one of their bigger targets, I wouldn't be surprised to see them throw some cash at Big Baby. As much as I appreciate what he's done for my Celtics, I can't say that I'd be happy paying him more than $3-$4mill a season.
Jeff Green (RFA) – Despite being a massive disappointment after his trade to Boston, Green is poised to be a hot commodity in this market. Why, I have no clue. Given their situation, however, it would be an absolute disaster for Boston to lose him. $8mil a year is way too much for Green, but I'm literally terrified that's what he's going to get.
Kris Humphries (RFA) – Humphries can rebound, and get with Kim Kardashian. Past that, I'm not sure there's a good reason for him to get the $6mil a year he's sure to command.
DeAndre Jordan (RFA) – Jordan has massive amounts of talent, but is comically bad on offense. Despite that, he has reportedly already received, and rejected, a 5yr $40mil offer from the Clippers. I swear, if DeAndre Jordan gets $10mil a year, we might as well just start the next lockout right now.
Rodney Stuckey – Stuckey's situation is very interesting right now, as the Pistons selection of Brandon Knight in last June's draft makes his future with the team very uncertain. Either way, he'll be a hot commodity that should be in a position to command a decent chunk of change despite the fact that he hasn't developed one bit since his rookie season. Guy still can't play PG and still can't shoot, but is probably going to be pulling in $8+mil from now on. That makes sense…
Nick Young (RFA) – Young proved last season that he can be a big time scorer in the NBA, but he also proved that he's an enormous black hole that wants no part of defense. Still, someone will pay him big bucks to jack up a bunch of dumb shots.
Thaddeus Young (RFA)– On talent alone, Young is worth a pretty sizable contract. He shows flashes of being a star, but has yet to put together a consistent stretch in his four NBA seasons. Regardless, the 76ers are intent on retaining him, and I imagine they'll pay a sizable sum to do so.
Even in a free agent class as bad as this one, there are bound to be some gems that get scooped up by shrewd teams. Here is a list of some interesting, and probably cheaper, free agents.
Shane Battier – I hate Battier as much as the next guy (why does he have grooves in his head?!?), but his value is undeniable. Instead of giving the full MLE to a guy like Jamal Crawford, a contending team should give it to Battier. They'd be receiving a far better all around player, and they'd be far better suited to winning in the playoffs.
Aaron Brooks (RFA) – Brooks contract situation in China makes him a risky bet, as he might not be able to return to the States until March. Still, a smart GM could easily take advantage of that situation, snapping up the talented guard at a discounted price. Brooks was extremely effective in his one full season starting for the Rockets, averaging nearly 20PPG and over 5APG. While he might not be suited to starting, Brooks could be one of the better 6th or 7th men in the game, providing instant offensive punch and energy for long stretches of the game.
Wilson Chandler (RFA) – Like Brooks, Chandler is currently in China and appears locked in over there until March. Like Brooks, this could be an opportunity for a team to land the talented wing for less than market value.
Andrei Kirilenko – I have no idea what AK-47 will go for in this market, but I'm sure it's less than what he's worth. His troubles in Utah certainly give him a poor reputation, but it's not his fault he was overpaid. Kirilenko is still a force on the defensive end and a versatile weapon on the offensive end. The Lakers are often mentioned in relation to him, and having him replace Ron Artest seems like it would be a natural fit.
Carl Landry – Perhaps due to his size, Landry is almost always undervalued. As a FA, I expect more of the same. Landry more than makes up for his lack of height with excellent scoring punch off the bench. A team like the Pacers would be much better off getting him to platoon with Hansbrough than spending big money on West.
Tayshaun Prince – Undervalued thanks to the mess in Detroit, Tayshaun Prince still has many of the same qualities that got him selected to the U.S. Olympic team several years ago. He can still play lock down defense, he can still rebound is position well, and he can still consistently knock down open jumpers. Instead of overpaying Jeff Green to do those things (and fail), why not give Tayshaun half as much to do two times more?
Jason Richardson – "Cheap" or "underpaid" might not be the right word for Richardson, but landing him for the MLE or slightly more seems like a pretty fair deal. He's not the player he used to be, but he's certainly better than the guy who consistently missed open jumpers in Orlando last year. Rumor has it that Chicago covets him and is prepared to offer him their MLE. While that might be a bit less than he could get elsewhere, it would be hard to deny the benefits of playing alongside Derrick Rose. All in all, getting a guy who could potentially average 20PPG and be a solid #3 scorer is definitely worth $5mil/year.
Sonny Weems – This one's for you, Laney! It's Sonny Weems Time!
Brian Scalabrine – Guy just wins. Period. He's the Tim Tebow of the NBA.
Lastly, there are two specific guys that I want to mention. One is a long-forgotten star that has been buried by knee injuries, but could be a solid buy at a low enough price. The other is a former #1 overall pick that can't seem to stay on the court, but who could be an interesting play for a number of teams.
Michael Redd – Back in the day, Redd was a guy who (illogically) received a max contract with the Bucks. After a never ending series of knee injuries, the sweet stroking lefty is clearly not what he used to be. Still, that doesn't mean his career is over. Redd is just 32 years old and could still provide value as a shooter off the bench. If the Bulls can't land a guy like Richardson, they'd be smart to take a flier on Redd. Worst case scenario is that he gets hurt again and you part ways with nothing lost.
Greg Oden – This is probably the most interesting situation of all, as we have no idea what Oden would be capable of if he could stay on the court. Fact is, the odds of that look very slim, but the prospect of it is intriguing nonetheless. It currently looks like Oden will sign his one year tender and remain with Portland, as there is little interest in him around the league. Quite frankly, I don't get that. Why wouldn't a sad sack team such as the T-Wolves or Cavs take a short term flier on him? As I've said many times, you have to have stars to win in the NBA. This is the rare case when a team like Cleveland can actually land one in free agency. If I were Cleveland's GM, I would offer Oden a 3 year deal worth $30mil, or whatever they felt Portland wouldn't match. Yes, there's a ton of risk involved, but it's totally worth it if you're Cleveland. The team will be massively under the cap, so spending that type of money is no problem. Also, the team has committed to a youth movement, this time not rushing the development with stupid free agent signings. Basically, they'll need to use their cap space at some point to ensure they meet the minimum salary threshold, and they're not interested in wasting big dollars on veteran free agents. Why not Oden then? He makes total sense! If he can't stay healthy, then they've sacrificed almost nothing since the cap space was irrelevant to begin with. By the time his contract comes up, they'll still be in a position to sign players since the rookie contracts of Kyrie Irving and Tristan Thompson will still have an additional year. If he DOES stay healthy, then Cleveland hits the jackpot in having a superstar center to pair with their potential superstar point guard. Worthy risk if you ask me…