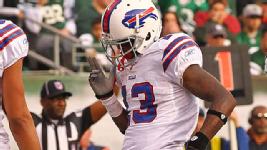 I don't care what anyone else thinks, Steve Johnson's celebration was funny!
Though the Super Bowl is over and games don't begin until next fall, the NFL season never truly ends. In many ways, the "game" that goes on in between the games is just as important, if not more so, than what happens on the field. Here, in the offseason, is where the course of all 32 NFL franchises is determined. To highlight the importance of this period, and to take a peek at what each team is facing, I'll be embarking on an ambitious series in which I briefly preview each team's offseason. We'll examine the major questions each team faces, what type of cap room they have, who they should be targeting in the draft, etc. My goal is to complete this prior to the start of free agency (March 13)…..which will likely not happen. Oh well.
We continue the previews with a team that absolutely refuses to be relevant, the Buffalo Bills. In case you missed them, here are links to each of our past previews:
*Cap figures are taken from South Florida Sun-Sentinel.
Estimated cap is $124 million.*
Buffalo Bills
PPG For: 23.3 (14th)
2012 Cap Number:

$108,426,522
Draft Position:

#10 Overall Pick
Much like their divisional foe, Miami, the Bills 2011 season can be broken down into two parts. The first part featured a surprising 5-2 that really peaked in a shocking Week 3 upset of New England. The second part was not so exciting, as the Bills stumbled to a 1-8 finish that saw them lose 7 straight at one point. Given the obviously fluky nature of their hot start (unless you think getting tons of tipped ball INT's is an actual strategy), it's pretty clear that the Bills are far closer to the 1-8 team that finished the season than the 5-2 team that started it. And with Ryan Fitzpatrick locked into a massive 39 year $12 trillion contract, Buffalo might have stuck themselves in idle once again.
Before his injury, Fred Jackson was undoubtedly one of the best players in the NFL. Heck, I had him listed in the top 5 of my MVP watch even as Buffalo was starting to fade away! He'll be 31 entering this season, but with fewer than 1000 carries in his career, it seems like he has a good shot at regaining his form. Even if he can't, the Bills running game will still be in good hands after C.J. Spiller's breakout performance. The former #9 overall pick was a controversial selection at the time, and many were already writing him off after a year and a half of…well, pretty much nothing. Spiller showed little of the game breaking ability he was drafted for during his rookie season, averaging just 3.8 YPC on 74 carries and reeling off zero runs of more than 20 yards. But hey, at least he was doing SOMETHING!
Through the first 10 games of last season, Spiller had only been given 21 carries, and had also been stripped of his kick return duties. That's right; a former top ten pick wasn't even seeing the field in just his second NFL season. If that doesn't spell bust, then I don't know what does! But whatever happened for Spiller in those last six games, whether it be as simple as opportunity or whether it be something else, that bust label certainly won't apply for very much longer. In that stretch, Spiller ran the ball 86 times for 446 yards (5.2 YPC) and 3 scores, while also catching 24 passes for 187 yards and 2 more scores. And the explosiveness for which he earned all kinds of pre-draft praise? How does 6 carries of 20 or more yards sound? Look, the Bills are never going to have a top flight offense with Ryan Fitzpatrick running the ship, but there's no reason they shouldn't have a top 5 rushing attack next season with these two studs.
The Bad:
There's a lot wrong with this team, but I'll break it down to two things:
1. The defense is spectacularly bad. They were bailed out early on by "forcing" timely turnovers, but as we've already discussed just how fickle turnovers are, I'll assume you're smart enough to figure it out. Regardless, their luck had run out by midseason, and they were soon giving up 30 or more points per game on a regular basis. That's a losing formula even with Tom Brady as your QB! With Ryan Fitzpatrick, it's pretty much the same as a shotgun to the face. In recent years, Buffalo has invested heavily in their defense via the draft, so there is certainly some hope on the horizon. Marcell Dareus, in particular, had a very promising rookie campaign, and he very well could be a dominant interior lineman as soon as this year (the switch to a 4-3 should help him tremendously). However, they've whiffed on an awful lot of those picks. Leodis McKelvin and Aaron Maybin were both picked 11th overall in their respective drafts, and neither has turned into much. They badly need a strong draft class to infuse some talent, or else they need a couple of their young guys (Kelvin Sheppard, Alex Carrington, etc.) to really step up.
2. The Ryan Fitzpatrick thing is an utter disaster. I know Buffalo has had QB issues for a long time, and I know Fitzpatrick's emergence got them excited, but what benefit did they gain from rashly locking him up in midseason like that? Were they afraid he wouldn't take that offer after the year was over? Did they think someone would swoop in and top it? If so, then someone in management needs to have their brain examined…honestly that should probably happen anyways. Look, I like Fitzpatrick as much as the next guy. He's a good story, and he's exactly what Buffalo needs right now. But viewing him as any more than a bridge to a true franchise guy is ludicrous. Giving him a contract that pays him like a franchise guy? That's unforgivable.
Key Free Agents:

TE Scott Chandler, WR Steve Johnson, K Rian Lindell, G Chad Rinehart, S Bryan Scott, G Kraig Urbik
3 Key Questions:
#1 – Can Ryan Fitzpatrick earn his contract?
In short, the answer is obviously no. He's getting paid big time money, but he's not a big time QB. The better question is whether Fitzpatrick has already reached his ceiling. To that end, I'm not totally sure, but Buffalo certainly has to hope he has another level to his game. The biggest issues for Fitzpatrick have always been accuracy and turnovers (did Buffalo not think those were kind of big deals?). To his credit, Fitzy did show a marked improvement in the accuracy category, as his 62.0% completion percentage was easily the best of his career. I could be mean and point out that 62.0% isn't super great for a guy who only gets 6.7 Y/A, but I'll cut him some slack on this one. As for the turnovers…that didn't go as well. Fitzpatrick lead the league with 23 INT's (more than Josh Freeman!!!), and his 4.0% INT rate was tied for fifth worst in the league. Based on his career INT rate of 3.7, last year was not an anomaly.
So, can a 30 year old guy with 52 starts under his belt still develop? It wouldn't be the first time, but it's certainly not something I'd want to put money on. The problem is that I'm not sure what the team can do to hide his deficiencies. He was only sacked 22 times, so pressure clearly wasn't the issue. His Y/A was just 6.7, so it's not as if they're asking him to chuck the ball downfield all the time. This is all on Fitzpatrick, and there's nothing about his game that makes me think he can inch Buffalo closer to a playoff berth. Sorry, Bills fans, looks like you're stuck with a crappy QB…again.
#2 – Should they keep Steve Johnson, or are his antics too much?
Quite frankly, I think this is the dumbest offseason question of all. Steve Johnson is 26 years old, has put together two consecutive 1000 yard seasons, and has scored 17 TD's combined in those two seasons…and the Bills want to be rid of him? Why, a couple big drops? A few dumb penalties? Is that really a good enough reason to throw away one of the best young receivers in the game? People always want to point out that Johnson is the next Ochocinco, but few people want to remember just how dominant Chad "Johnson" was. The antics that we revile Ochocinco for didn't start until his skills began to diminish. Prior to that, his only gimmick was catching tons of passes and finding his way to the end zone. Yeah, the TD celebrations were a part of that, but you can deal with a bit of extra flair to have a first team All-Pro type of player. Maybe Johnson will never be on that level as a player, but is Buffalo, a team that badly needs young playmakers; are they really willing to let 80 catches, 1100 yards, and 7-10 TD's walk out the door over an extra 15 yards on the kickoff?
#3 – Can they keep both Jackson and Spiller happy?
This will be an interesting subplot for the Bills, as both players are going to feel entitled to the job. Remember, Jackson expressed frustration during last year's camp at being forced to compete for the job. After a dominating stretch last season, how is he going to respond to splitting carries? On the flip side, is Spiller, a guy the Bills have invested a lot in, going to feel entitled to the lion's share of the work? Even if the Bills go run-heavy next year, which they absolutely should, it's doubtful that there will be enough carries to keep both players totally happy. Perhaps they can sell an "easing you in" strategy to Jackson, or maybe they can sell a "keeping you fresh" strategy to Spiller. If they can't, this situation could turn toxic and potentially undermine the whole year.
Courtney Upshaw should be available when Buffalo is on the clock, and he absolutely has to be the pick. Most project him as a better fit in the 3-4, but we already saw with Von Miller that a dynamic player is going to be a dynamic player no matter the scheme. Upshaw is quite possibly the best pass rusher in the draft, and his ability to apply pressure on the outside is exactly what the Bills lack. With Upshaw bringing it from the outside, and Dareus bringing from up the middle, the Bills defense should be able to cause much more havoc than they did last season.
Summary Thoughts:
I've said this many times, but I deeply respect the intensely loyal Bills fan base and I wish them better luck. Honestly, it would have been better for them if they had lost all 16 games last season so they could land Andrew Luck. It didn't happen, and now the franchise has once again set themselves back with the idiotic Ryan Fitzpatrick deal. Unless he's a really late bloomer, there's no reason for optimism in 2012. The defense simply has too many holes to fill, and the offense is simply not efficient or explosive enough to cover up that problem.