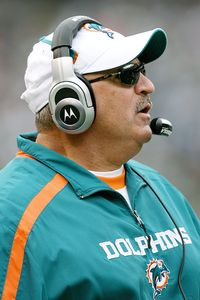 I already miss him...and his glasses.
Though the Super Bowl is over and games don't begin until next fall, the NFL season never truly ends. In many ways, the "game" that goes on in between the games is just as important, if not more so, than what happens on the field. Here, in the offseason, is where the course of all 32 NFL franchises is determined. To highlight the importance of this period, and to take a peek at what each team is facing, I'll be embarking on an ambitious series in which I briefly preview each team's offseason. We'll examine the major questions each team faces, what type of cap room they have, who they should be targeting in the draft, etc. My goal is to complete this prior to the start of free agency (March 13)…..which will likely not happen. Oh well.
We continue the previews with a team suffering from a severe case of bi-polar disorder, the Miami Dolphins. In case you missed them, here are links to each of our past previews:
*Cap figures are taken from South Florida Sun-Sentinel. Estimated cap is $124 million.*
Miami Dolphins
2011 Record: 6-10
PPG For: 20.6 (20th)
PPG Against: 19.6 (6th)
2012 Cap Number: $116,636,173
Draft Position: #9 Overall Pick
There are two ways to look at Miami's 2011 season:
1. The Dolphins 6-3 finish was good for the team. After starting off 0-7, everyone expected them to simply roll over and die. Instead, they continued to fight hard, and absolutely nobody wanted a piece of them by the end of the year.
2. The Dolphins 6-3 finish was an utter disaster. At 0-7, the Dolphins were very much in the thick of the Andrew Luck Sweepstakes. At 6-10, they not played themselves out of Andrew Luck, but they also played themselves out of Robert Griffin. Now, instead of having the franchise QB they've needed for over a decade fall right into their laps, they'll need to give up substantial assets to land him.
Honestly, I can understand both sentiments. As I've talked about before, sometimes it's in the best interests of the franchise to lose. In this situation however, I'm not sure I feel that way. Sure, landing either Luck or Griffin would be nice, but let's be honest about this and admit that they were NEVER losing more games than the Colts. Even in their 0-7 start, the Dolphins were fairly competitive, losing three of those games courtesy of horrific meltdowns. So would it have been worth it to render further damage to the franchise and its players by playing dead at the tail end of the season in the quest for Robert Griffin, or are they infinitely better off with the player development that the strong close undoubtedly provided? I say it's the latter, Robert Griffin be damned! Instead of entering 2012 as the losing bunch they consistently are, they enter the season with a swagger and a confidence that hasn't been present in quite some time.
The Good:
As I said, I think a lot of good came from the strong close. For starters, the Dolphins might have found a couple gems in Matt Moore and Reggie Bush. Bush is the obvious one of those two, as his 1086 yards and 5.0 YPC is the type of production everyone thought he was capable of coming out of USC. Whether he can handle that workload on a consistent basis has yet to be determined, but at least we know the ability to fulfill those expectations is there. With Daniel Thomas around to take some of the work, Bush should remain a dangerous weapon. As good as he was, however, the real find might be Moore, and it honestly surprises me that Miami is pursuing other QB's so intently. Now, to be fair, it's not as if Moore made everyone in Miami forget about Dan Marino. For the most part, he was a game manager type who the coaches weren't going to entrust with too many responsibilities. That's a fair assessment, and a fair criticism if you're inclined to that. However, it's also fair to wonder whether he can be more. Remember, Moore was only signed as an insurance policy should Chad Henne get hurt or play very poorly, and he wasn't given the benefit of a full offseason. Could Moore handle more responsibilities if asked? We don't know. But the fact that he completed over 60% of his passes, finished in the top ten in TD%, finished in the top 15 in INT%, and threw for 7.2 Y/A makes me think it's definitely worth a look. Considering the exorbitant cost it would take to get Griffin, and the insane contract it would take to get Matt Flynn (who is less of a sure thing than Moore…at least we've seen Matt Moore for more than two games!), I don't see why Miami would be so eager to move on from him.
Also in the good category is the defense, which finished 6th in points against. I wonder if they played a bit over their heads last year, but I can't argue with the numbers.
The Bad:
Matt Moore was sacked 36 times last season, tied for 6th most in the league. That's pretty high even before you account for the fact that he started just 13 games. If you add in Chad Henne's 11 sacks taken, forming Mad Monne, that QB was sacked a league high 47 times. So yeah, the protection could definitely be better. The same can be said for the run blocking, where both Bush and Thomas were bottled up a ton at the beginning of the season. The team needs Jake Long to return to his dominant self, but more than anything, they need the right side of the line (Vernon Carey, Marc Colombo) to hold up. Carey seems to fallen off a cliff in the past two seasons, while Marc Colombo is just plain bad. I know this first hand, as I watched him nearly murder Tony Romo about four times a game two years ago. With both being free agents, it's a good bet to think they'll move to upgrade those positions.
Key Free Agents: QB Chad Henne, CB Will Allen, G Vernon Carey, T Marc Colombo, DE Kendall Langford, DT Paul Soliai
3 Key Questions:
#1 – What effect will the coaching change have?
Tony Sparano was always an easy guy to criticize, especially since those sun glasses made him seem like somewhat of a cartoonish figure. But no matter what you thought of him, there was no doubt that his players played hard for him. Getting his guys to fight through an 0-7 start is easily one of the most impressive jobs of 2011, and I can't understand why he was given the boot. I mean, did they expect him to win the Super Bowl with Chad Henne or something?
That having been said, Joe Philbin was a good hire. It would have been easy for them to play it safe with a Mike Mularkey-like retread, and their aggressive pursuit a fresh, highly sought after candidate deserves to be praised. But while his work with the Packers offense is certainly impressive, and I'm sure he brings a lot more to the table in terms of actual coaching than Sparano, the real question is whether he can get the players to buy in the way they did for Sparano? It's impossible to answer that question without seeing them play, so I'll withhold judgment for now. Of course, if he can do for Matt Moore what he did for Matt Flynn, then I'm pretty sure he won't have to worry about guys playing hard.
#2 – Can Reggie Bush hold up physically?
I brought this question up earlier, and it's certainly worth asking. This shouldn't come as a news flash to any of you, but Reggie Bush has had some injuries before. As in, he's gotten seriously injured in pretty much every year of his NFL career. So it really is some sort of small miracle that Bush made it through 216 carries without losing a limb. Now, can he do it again? I remain dubious, as any semi-cynical person should, but it's important to not blow his increased workload out of proportions. Sure, Bush's 259 touches were a career high, but not by that much. He was given 243 touches his rookie season, and 230 the year after, so he's actually had a comparable workload before. What makes Bush's "workload" seem so high last year is simply the fact that the amount of yards he gained was so much higher than what he gained in any other year of his career. Look, sometimes health is just a matter of luck. A rolled ankle, a hit to the knee, it's all part of the game. Bush has had some horrible luck thus far in his career, but that doesn't mean it will continue. If the Dolphins continue to keep his touches in check, there is no reason to think he can't be a franchise type player for them. Considering what they gave up for him (basically nothing), that's one heck of a find.
#3 – Can the defense repeat their 2011 performance?
Again, you have to give them credit for how well they played last year, but it's fair to wonder if they can repeat it in 2012. Honestly, I'm not overly wild about the personnel. Jason Taylor's retirement deprives the team of its only other legit outside pass rusher, leaving Cameron Wake to deal with the DeMarcus Ware treatment on a consistent basis. Unless Jared Odrick and Koa Misi take a big leap forward this year, the front seven just isn't going to have enough depth beyond Wake, Karlos Dansby, and Randy Starks. And hey, with Wake and Dansby on the wrong side of 30, there's no guarantee they'll continue to perform at their peak. Even in the secondary, where Vontae Davis, Yeremiah Bell, and Sean Smith are all fine players, there just isn't a top end game changer. That's not to say the defense is bad or anything, it's just that I'm skeptical of them as a top 10 unit. If they regress back to the middle of the pack, then the offense is going to have to find a way to pick up the slack. Can they? We'll see.
Draft Thoughts:
Courtney Upshaw would be a great pick for them if they were still utilizing a 3-4, but the switch to a 4-3 makes the fit to iffy for me. Honestly, I'm not sure Miami could afford to overlook the offensive line either way. Both Riley Reiff and Jonathan Martin are excellent prospects, and either could step in at RT right away. My preference would be Martin, as he's the more athletic of the two. With a RB like Reggie Bush, having a RT who can effectively block on outside runs and on screens is a must, and that makes Martin a better fit. Also, if the need ever arises, Martin is a better candidate to slide over to LT.
Summary Thoughts:
If it seems like I'm spending an awful lot of time praising a 10 loss team…well, it seems weird to me too. However, it's worth noting that Miami was 1-5 in games decided by 3 points or less. 2011 could have turned out much differently for Miami with even the slightest bit of luck. A lot of what happens in those types of close games can be chalked up to the fickle nature of football, and it would be reasonable to expect a better record in those types of contests. Of course, a lot of that will all depend on how they handle their QB situation. My guess is that the team will either bring in Matt Flynn or stick with Moore. I've made it clear that I think Matt Moore should be given a chance, but it really wouldn't be a travesty if they brought in a promising guy like Flynn. Either way, I think there is a good possibility that Miami builds on their strong finish to last season. Maybe they don't make the playoffs, but 8 or 9 wins seems very attainable.