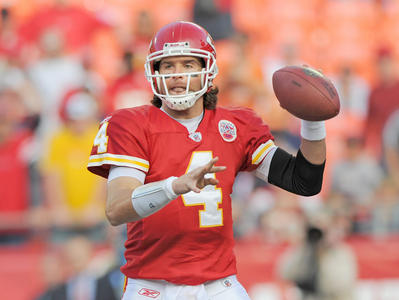 Looking back, it really is a bit jarring that Tyler Palko was allowed to play in 6 games.
Though the Super Bowl is over and games don't begin until next fall, the NFL season never truly ends. In many ways, the "game" that goes on in between the games is just as important, if not more so, than what happens on the field. Here, in the offseason, is where the course of all 32 NFL franchises is determined. To highlight the importance of this period, and to take a peek at what each team is facing, I'll be embarking on an ambitious series in which I briefly preview each team's offseason. We'll examine the major questions each team faces, what type of cap room they have, who they should be targeting in the draft, etc. My goal is to complete this prior to the start of free agency (March 13)…..which will likely not happen. Oh well.
We continue the previews with a team that desperately wants to be the New England Patriots, the Kansas City Chiefs. In case you missed them, here are links to each of our past previews:
*Cap figures are taken from South Florida Sun-Sentinel.
Estimated cap is $124 million.*
Kansas City Chiefs
PPG For: 13.3 (31st)
2012 Cap Number:

$95,844,195
Draft Position:

#11 Overall Pick
After being the surprise winner of the AFC West two seasons ago, it seemed somewhat inevitable that Kansas City would take a step back. Matt Cassel just was not going to play at a Pro Bowl level two years in a row. But when the Chiefs opened up 2011 with a -79 scoring differential in their first two games – well, that was more like the Chiefs taking fourteen steps back and inadvertently falling off the roof in the process. They rebounded, of course, and ended with a respectable 7-9 record – which sadly nearly won the division – but there are some clear problems that need addressed. Nevertheless, the division they play in affords them a huge opportunity to jump right back into the playoff picture as soon as next season.
The offense was really bad last year, but that's going to happen when you lose your best player (Jamaal Charles) and your QB. While Jackie Battle and Dexter McCluster were able to fill some of the void Charles left behind, Tyler Palko was only able to fill the void between defenders' arms…as in, he is a really, really awful QB that deserves to have his left arm amputated so none of us will be forced to watch him throw again. Thankfully, both Charles and Cassel return this year, and along with them comes the hope that the offense can finally get back on track. And there definitely is hope. Even though Cassel played poorly last year, he has shown an ability to be an effective NFL QB, and it would be surprising if he didn't settle somewhere between his 2010 and 2011 performances. He won't lack for weapons, as the Chiefs have quietly done a nice job of stockpiling offensive talent for him to work with. Charles, Battle (assuming he's back), and McCluster are one of the more potent RB trios in the league, and if they can re-sign Dwayne Bowe then they'd have a similarly talented group of receivers in Bowe, Steve Breaston, and Jonathan Baldwin. Maybe they won't remind anyone of the Greatest Show on Turf, but outdoing 13.3 PPG should be a pretty easy task.
Let me also quickly note that the Chiefs defense is better than what the numbers say. Their scoring stats are skewed because of the first two games, and because the offensive ineptitude constantly put them in tough situations. They just brought Stanford Routt on board, which provides an upgrade to an already talented secondary. If Eric Berry can come back healthy, and if the Chiefs can get just a bit more talent up front, then the defense should end up being a top ten unit with no trouble.
The Bad:
Now that I've spent all this time talking about how getting Cassel back is good for the Chiefs, let me now talk about how Matt Cassel is bad for the Chiefs. They've sunk a lot of money on this guy, and they've gone out of their way to surround him with weapons. Quite frankly, he was bad last year. Plain bad. He completed under 60% of his passes, managed just 6.4 Y/A, and finished in the bottom half of the league in both TD% and INT rate. That's just not gonna cut it, especially for a guy that's supposed to be your franchise QB. And please, don't try to tell me that losing Charles and Moeaki is the reason he struggled. Cassel had all kinds of talent around him and failed to utilize that talent in any meaningful way. Even with his return, the Chiefs are always going to be limited in how far they can go, because Matt Cassel is just not good enough to take this team any farther than the Divisional Round of the playoffs.
Key Free Agents:

RB Jackie Battle, LB Jovan Belcher (RFA), WR Dwayne Bowe, CB Brandon Carr, DT Kelly Gregg, RB Thomas Jones, FB Le'Ron McClain, S Jon McGraw, QB Kyle Orton, TE Leonard Pope, T Barry Richardson, C Casey Wiegmann,
3 Key Questions:
#1 – Can they keep Dwayne Bowe?
The short answer is, yes. The Chiefs have already stated their intention to lock Bowe up, and Bowe has reciprocated those sentiments, saying that he would like to remain in Kansas City for the long term. As with any discussion of this type, however, money is going to be the main issue. After Santonio Holmes received his massive 5yr $45mil contract last offseason, it stands to reason that Bowe will be looking for something in that same range, if not more. Considering his production over the last two seasons, I don't blame him. The most likely scenario has is that the Chiefs franchise tag him, and use that exclusive negotiating window to lock him up long term. The important thing is that, no matter how it gets done, it actually gets done. Even with the depth of talent at WR, the Chiefs simply cannot afford to lose a guy like Bowe. He's the only guy on the team that has the ability to command a constant double team, while still being able to beat it on a consistent basis. Without Bowe, where does Cassel turn to? Steve Breaston was a great signing last year, but he's proven that he's definitely not a #1 receiver. Jonathan Baldwin may someday be that type of player, but his 21 catch performance in 2011 was extremely disappointing for someone with his kind of talent. Like I said, the Chiefs can't afford to let Bowe walk, no matter the cost.
#2 – Can they find a way to pressure opposing QB's?
It's a good thing the Chiefs secondary is so strong, because they're often left on an island thanks to a non-existent pass rush. KC managed just 29 sacks last season, "good" for 27th in the league. Tamba Hali had 12 of those sacks, which makes the number seem even more pathetic. So, where do they turn for help? Well, part of the answer might already be on the roster. Justin Houston had some trouble adjusting to the NFL game, but seemed to finally figure things out towards the end of the season, closing with 5.5 sacks in his last 5 games. He has a ton of talent, and probably would have been a first round pick last year had there not been some character questions. Other than him though, there isn't much on the roster. Remember, Tyson Jackson (former #3 overall pick) and Glenn Dorsey (former #5 overall pick) were supposed to be dominating up front by now, but neither has lived up to their lofty billing. For the millionth straight year, they'll need to find someone, either in the draft or through free agency, who provide a push up front, or else the defense will not be able to reach its potential.
#3 – How good can Jamaal Charles be?
No matter how well Cassel played two years ago, Charles was the unquestioned key to the offense. His explosiveness and versatility gave them something that nobody else could, not even Dwayne Bowe. As good as Battle and McCluster were, they simply can't replicate what Jamaal Charles brings to the table. So, can he bring it to the table once again? First and foremost, it's important to understand that an ACL tear like Charles' is typically a two year injury. That's not to say he can't be effective this season, but expecting him to be 100% might be asking for too much. They'd be smart to limit his carries even more than they did before.
What worries me most about Charles' situation is that I'm not sure what he can do if he's robbed of his cutting ability and explosiveness. If he's 75%, are we going to see something like the Chris Johnson thing from last year? I don't have the answer to that question, but it's definitely worth pondering. Here's hoping Charles goes back to being Charles, because he'd easily one of the most fun players to watch in the NFL.
There are so many ways this pick could go, so I'll just roll through them in rapid fire format:
RT Riley Reiff – He would have excellent value at #11, at would provide an upgrade over the ineffective Barry Richardson.
RB Trent Richardson – Let me be clear; the chances that Richardson falls this far are extremely slim. Still, the fits for the teams drafting above KC are dubious, and we've seen RB's fall before. Richardson and Charles would be a lot of fun, and it would actually make sense since limiting Cassel's work should be a goal of the offense.
LB Courtney Upshaw – Most people have Upshaw going to Buffalo at #10, and I doubt he falls to Kansas City. Even if he does, I'm not sure if this is the best fit since they already have Hali and Houston. There's too many other needs for KC to replicate what they already have.
DT Devon Still or DT Michael Brockers – Whichever one is here for them. At this point, I don't know enough about Still to say how he'd fit in a 3-4, but I know that Brockers was used at the nose and as a DE in LSU's 3-4. By the way, he was really good. So there's that. Of course, it seems to me that Kansas City already went down the path of taking highly rated defensive linemen from LSU (Glenn Dorsey and Tyson Jackson). That didn't really work out, so you have to wonder if they'd be scared off by that.
LB Luke Kuechly – Jovan Belcher is a RFA, so depending on what they do with him, this could turn into a nice intersection of need and value. Scouts rave about Kuechly's instincts and tackling ability, which is certainly a must for a 3-4 ILB. Of course, this doesn't really address their pass rush problem.
This might be a tough spot for Kansas City, since Richardson, Upshaw, and Brockers will likely be gone by the time they pick. The more I research Still, the more I dislike the idea of him in a 3-4. That leaves either Reiff (or Jonathan Martin) and Kuechly. Honestly, I think they might be better off moving down a bit, and landing a true NT like Dontari Poe. Heck, it might even be worth it to reach 7-10 spots if they think he can be their guy.
Summary Thoughts:
There's a lot that I like about the Chiefs, and a lot that I don't like. Most of all, I don't like Matt Cassel. But hey, the Chiefs are probably going to feel like they've landed Tom Brady after the Tyler Palko experiment! The fact of the matter is that Kansas City doesn't need to be a dominant team to win their division. Denver is obviously vulnerable, the Chargers still have Norv Turner, and the Raiders seem likely to take a step back. It's as wide open as can be. With a few tweaks on defense, a better season from Cassel, and the return of Charles, there's no reason to think Kansas City can't reclaim the division title.